Xiaomi releases MIUI 7 beta -- here's how to install it on your smartphone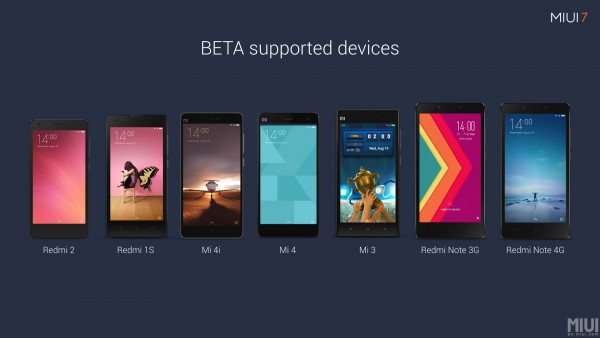 Xiaomi today releases the highly anticipated beta of MIUI 7 global ROM. The new Android-based ROM is built on Android 5.1 Lollipop and comes with a number of notable features and improvements. If you've recently purchased a Xiaomi smartphone and need assistance with the installation of the beta ROM on your device, here's a guide to help you out.
MIUI 7 beta ROM features several themes and interesting features. Visual IVR, for instance, lets you navigate through the IVR menu without even listening to the caller. The new ROM also features Opera Max to significantly reduce the data usage.
In addition, the new Android-based build offers a claimed 10 percent increase in the battery life and a 30 percent performance boost over Xiaomi's current MIUI 6 ROM. The company says that the ROM has also become snappier, with substantially improved response time.
The MIUI 7 beta ROM is available through the company's forum and supports the following handsets: the Redmi 2, Redmi 1S, Redmi Note 3G, Redmi Note 4G, Mi 3, Mi 4, and Mi 4i.
To install the device, you will first need to download the correct version of MIUI 7 beta ROM for your device. You will need to download both the Fastboot and Recovery images.
Once you've downloaded the file (hold tight, it could take a while as the files weigh around 2GB), you need to rename the downloaded ROM file (Recovery file) into "update.zip" and transfer it to your Android device's "downloaded_ROM" folder.
Once done, launch the "Updater" app on your device and tap on the "reboot to recovery mode" option. This will boot your device to recovery mode. You can now use volume keys to navigate through the option, and the power button to confirm the change.
Choose your preferred language, and select "Install update.zip to System One", and click the option that says "Yes".
This will initiate the installation process. Sit tight, and wait for around 20 minutes while your device installs the latest Android version.
Are you enjoying the MIUI 7 beta? What's your favorite feature about this ROM? Share your thoughts with us in the comment section below.