Microsoft will push Windows 10 even harder in 2016 -- is the company being a bully?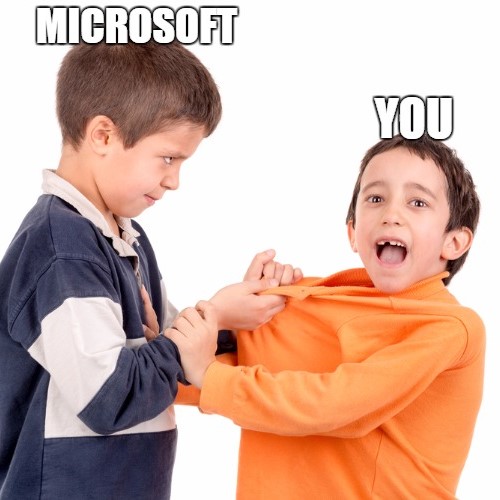 Windows 10 is a wonderful operating system -- the best operating system that Microsoft has ever created. With that said, there are still many bugs in it. Plus, the privacy concerns are legit, despite what some fan-sites may have you believe. My biggest annoyance? Advertisement prompts telling me to try Office 365, and regular survey prompts asking me to rate Windows -- I am on the retail build, not pre-release, and that is totally inappropriate.
With all of that said, it is totally understandable that some Windows 7 and 8 users want to hold off on installing version 10. Sadly, Microsoft seems intent on pushing the new operating system on the world. First, the company was caught intentionally downloading Windows 10 setup files onto unsuspecting PCs. Of course, let us not forget that "accident" where Microsoft forcibly upgraded some computers to Windows 10. Now, according to Terry Myerson, Microsoft's Executive Vice President of the Windows and Devices Group, the company will start pushing Windows 10 even harder in 2016.
"Early next year, we expect to be re-categorizing Windows 10 as a 'Recommended Update'. Depending upon your Windows Update settings, this may cause the upgrade process to automatically initiate on your device. Before the upgrade changes the OS of your device, you will be clearly prompted to choose whether or not to continue. And of course, if you choose to upgrade (our recommendation!), then you will have 31 days to roll back to your previous Windows version if you don't love it", says Terry Myerson,
What about those on metered connection? Surely this could cause some to use up precious data limits. Myerson explains, "if you are on a metered connection on Windows 7 or Windows 8.1, then you have the option of turning off automatic updates. We strongly discourage this in today's connected world because of the constant risk of internet threats. If you choose to do so, we recommend manually checking Windows Update frequently, perhaps when you are on a non-metered network and consider the installation of all 'Recommended' and 'Important' updates. Windows 10 will not automatically download updates on a metered connection unless there is a security issue addressed within the update".
The problem, you see, is that full-fledged operating system upgrades should not be lackadaisically pushed in Windows Update as a "recommended update" for Windows 7 and 8. Come on, Microsoft, you know the difference between an OS update and an OS upgrade and so do we -- pushing Windows 10 as a recommended update is inappropriate and a bit misleading. The fact that you are giving 31 days to roll back is too-little-too-late for non-power users.
The suggestion that users on metered connections turn off automatic updates to avoid Windows 10 is a bit silly -- unless they read Microsoft's blog post (most won't) how would they even know to do that in advance? Even if, against all odds, they somehow got the word to turn off automatic updates, Microsoft is making them less secure, in an effort to avoid something it is pushing on them. It is lose/lose.
Do I think people clutching Windows 7 and 8 would be better off with Windows 10? Absolutely. With that said, a paternalistic approach of Microsoft deciding for these users is bad practice. Windows 10 is a proven success on its own -- 110 million installs (as per Microsoft) show that people are choosing it on their own. Even if its intentions are good, Microsoft does not need to stoop to these tactics; let it happen organically, y'all.
Is Microsoft wrong to push Windows 10 as a recommended update to Windows 7 and 8 users? Sound off in the comments.
Photo credit: Luis Louro / Shutterstock