Block access to thousands of online threats with Hosts Block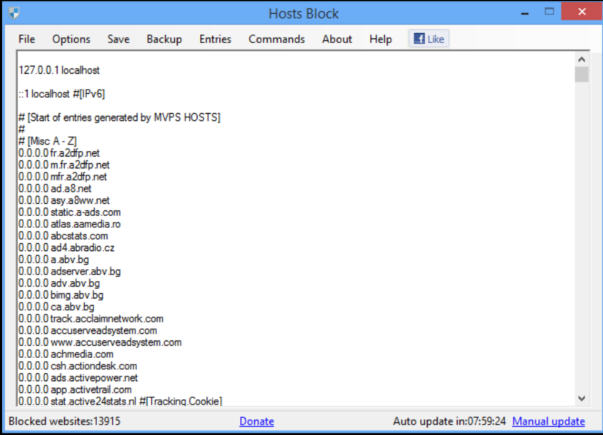 Most internet security suites include some kind of browsing protection which blocks access to known malicious websites.
But if you don't have anything installed -- or you'd just like to add a second layer of protection -- then you might be interested in the Windows freeware Hosts Block.
The program works by regularly updating your HOSTS file with the latest blacklists from MVPS or Malware Domain List, instantly blocking access to thousands of online threats.
Better still, Hosts Block looks out for other processes trying to access HOSTS, stopping malware from changing the file.
Experts can fine-tune their protection by editing HOSTS manually, creating exclusion lists, even specifying custom sources for HOSTS file data.
There's some risk here, as mistakes could prevent you reaching legitimate web resources.
Fortunately it's easy to back up and restore your current HOSTS, and if all else fails you can switch to the default HOSTS in a click or two.
It's not all good news. Occasionally we found the program crashed with an "unhandled exception" error, complaining: "The process cannot access the file 'C:\Windows\system32\drivers\etc\hosts' because it is being used by another process".
Our existing security package also had HOSTS open, so this might have been the reason for the conflict, but it's still an issue the program should have handled more gracefully.
Hosts Block won't work for everyone, then, but if you're interested there's more than enough features to make it worth a try.
Hosts Block is a freeware package for Windows XP and later.