Exynos 8 Octa 8890 is Samsung's answer to Snapdragon 820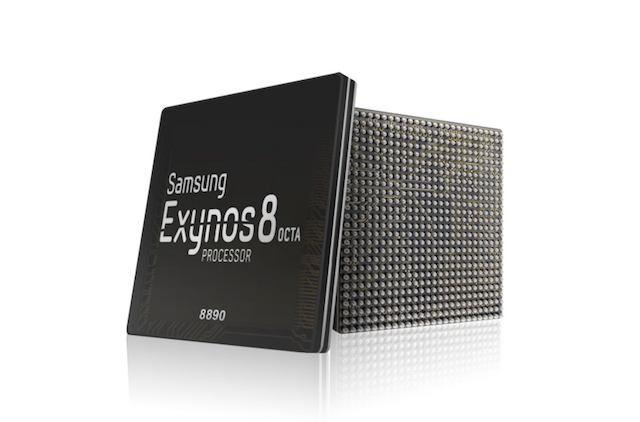 It looks like Samsung will continue to use its own Exynos chipsets in its next premium Android devices, as it has just announced a new flagship mobile processor. Called Exynos 8 Octa 8890, it is Samsung's answer to Qualcomm's mighty Snapdragon 820.
Samsung says that Exynos 8 Octa 8890 will go into production by the end of the year, so it is very likely that it will be used in Galaxy S6's successor -- likely called Galaxy S7 -- which will probably debut in the first quarter of 2016. Let's take a look and see what Exynos 8 Octa 8890 brings to the table.
Samsung is using the 14nm FinFET manufacturing technology for Exynos 8 Octa 8890, which is also used in Snapdragon 820's case, and making use of its first custom 64-bit ARMv8 CPU architecture and also 4G LTE modem (referred to as Rel12 Cat.12/13).
The CPU, as the name of the processor suggests, is an octa-core design, which promises a performance boost of up to 30 percent and a 10 percent increase in energy efficiency over Samsung's previous effort, Exynos 7 Octa. There's support for heterogeneous multi-processing, which, among other things, makes it possible to have all eight cores fired up at the same time. Inside the CPU, there are four custom cores and four ARM Cortex-A53 cores.
In terms of graphics, Samsung has equipped Exynos 8 Octa 8890 with the latest GPU from ARM, called Mali T880. There are no performance claims for this component, but you can expect a notable performance increase over the GPU inside Exynos 7 Octa.
On the modem side, what you need to know is that Exynos 8 Octa 8890 enables download speeds of up to 600 Mbps and upload speeds of up to 150 Mbps. That is over 4G LTE networks, and matches the performance claimed by Qualcomm for its Snapdragon 820. Samsung's processor supports carrier aggregation, which is what makes those super fast download speeds possible.
At this point it is too early to tell whether it is any faster or slower than Snapdragon 820, but we can expect to see benchmark results popping out soon after it enters production. With their predecessors, it was Samsung's offering which came out on top.