Windows 10 finally adds a new Path editor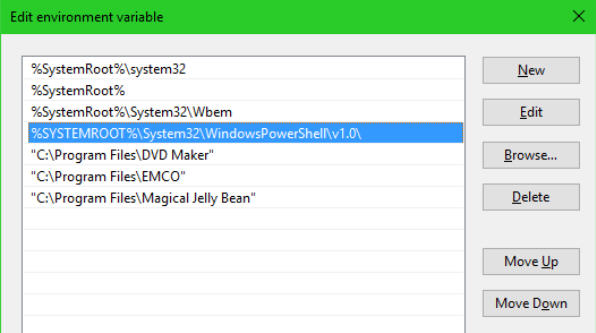 The Path environment variable is an important setting which has been around since the days of DOS, yet for some reason Windows has always made it awkward to view and edit.
Fortunately that's changed with Windows 10's November update (1511), which finally offers an interface you might actually want to use.
Access is still via the System Properties dialog: type path in the Search box, click "Edit the system environment variables", and click the "Environment Variables" button.
But double-click "Path" and you'll find the tiny fixed-width dialog has been replaced by a new Path editor.
This splits your Path into its various folders and displays them on separate lines, so there's far less horizontal scrolling required to view everything.
Each folder may be edited in place, much like Explorer file or folders names: just click something and type.
Need to add a path? You don't have to remember or type it any more, just tap Browse and select whatever you need.
It's easy to reorder folders by selecting them and clicking "Move Up" or "Move Down".
When you're finished, click OK and Windows creates the Path, inserting semi-colons in all the right places (something else you no longer have to check).
Working with other environment variables is easier, too, as both the viewer and editor dialogs are now resizable.
Good news, and not before time, but if you're not using Windows 10 -- or you'd just like more -- then Rapid Environment Editor is still a better choice.
The program highlights invalid paths and file names, offers drag and drop reordering and environment backups, and the latest version runs on anything from XP up.