WordPress.com app now available for Windows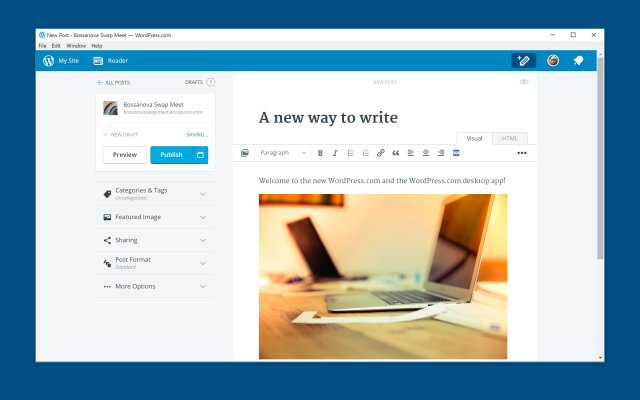 While the browser is likely to remain the most-popular and convenient way of managing a WordPress site from a PC, Automattic, the company behind the hugely-successful content management system, also wants to give users a more focused tool for the job. So, in late-November, it announced dedicated apps for Windows, OS X and Linux.
The idea behind the PC apps is to make it easier for users to focus on their content, by getting rid of the distractions that come with working inside a tabbed browser environment. The OS X app launched first, arriving at the time of the announcement, and now it is Windows users turn to get a dedicated WordPress.com app.
"Now you can manage your sites, write and publish, and even customize your site and view stats from a dedicated app in your Windows Start Menu", says Automattic. The app supports both WordPress.com and self-hosted sites, but, for the latter, you will have to have the Jetpack plugin installed to be able to connect to the CMS.
The WordPress.com app for Windows gives users access to all the features that they typically access in WordPress, but, just like the Mac client, things are organized in a slightly different way. You may need a bit of time to adjust to what it can do and where some of the features are before you can feel as productive as when using the browser.
Among the biggest features available in WordPress.com for Windows are the My Sites dashboard, which lets users manage multiple WordPress.com and self-hosted sites, a built-in editor, for creating and editing posts within the app, Insights and Stats, which is a feature that allows users to view performance stats for posts, and notifications, which shows things like comments and new follows.
The WordPress.com app for Windows is available to download from here. There is no word yet on when the Linux app will also be offered, but interested users can join this mailing list to be notified of its availability.