Opera's desktop browser adds a built-in ad-blocker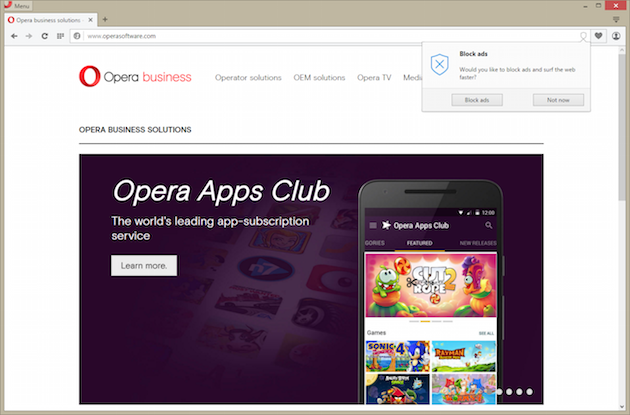 A growing number of major players in the tech industry are now in support for blocking ads. Apple offers this kind of feature in Safari on iOS, ASUS bundles AdBlock Plus on its mobile devices, while Three, a major UK carrier, blocks ads at the network level. And, as of today, Opera Software is also a member of this group.
Opera Software just announced that its desktop browser -- which is available on Windows, OS X and Linux -- will come with a built-in ad-blocker, which is a first for a major browser. The feature can be tested now in the Developer channel version of Opera and, once it is deemed ready for prime time, it will make its way to the public version of the browser.
Opera Software says that by integrating an ad-blocker into the browser it can offer a "40 percent faster browsing experience compared to third-party ad-blocking extension", on average. Based on its testing, Opera with the built-in ad-blocker is 21 percent faster than Firefox and 45 percent faster than Chrome, with the AdBlock Plus extension installed.
And when compared with Microsoft Edge, without an ad-blocker extension installed, that version of Opera is actually 89 percent faster. Opera Software says that it could not test Edge with an ad-blocker because, as you may know, extension support is not yet offered in this browser.
The company has performed the speed tests on 66 popular websites, measuring the performance between the moment the browser downloads the page and when it is fully rendered. For each page, the test was repeated 15 times to replicate actual usage -- and there was no cache cleaning involved for this reason. Opera Software used a high-end Windows 10 PC for these tests, so the performance difference may vary depending on your configuration, but also Internet speed and the websites that you visit.
Still, a 40 percent increase is nothing to sneeze at. Based on my own experience, even with an ad-blocker installed there is still room for improvement when it comes to page loading times. Some ad-blockers are also problematic in the sense that they can increase memory usage significantly, which effectively slows the browser (and the PC) down.
Opera Software has explained that "the improved performance is possible since the filtering happens at the web-engine level". At that level, the browser "can fully control the loading process of the webpage", which is "something extensions can't do".
The built-in ad-blocker is actually an opt-in feature, as it has to be manually enabled. The browser will advise users when to turn the feature on, presumably based on how many ads it detects and how much time it takes to load that website.
Opera Software does not explain why it is not turned on by default, but the toggle is easy to find by users as it sits in the left side of the browser's address bar. The browser also includes a benchmark for this feature, so that users can see how ads and tracking software affect page-loading times. Opera will actually use the popular EasyList and EasyPrivacy lists that AdBlock Plus uses.
The way I see it, Opera Software is only responding to a trend (well, actually, two). The number of Internet users who rely on ad-blockers has increased dramatically across the globe (by 41 percent year over year in Q2 2015, according to a Forbes report), so it makes sense for the company to tap into that audience. If people are doing it anyway, why not make it easy for them?
On the other hand, its own browser is not exactly running with the big boys when it comes to usage share, with NetMarketShare pegging the figure at just 0.86 percent. That is so small that it makes Safari look like a pop star -- it has way more fans on the desktop side, considering its 5.01 percent usage share.
With that in mind, it is not hard to see why Opera Software would want to shake things up. Question is, will people finally pay attention to it? Personally, I think that Opera will gain some users because of this, but the native ad-blocker alone will not make it as popular as Firefox or Chrome.
If you want to test Opera with the built-in ad-blocker, grab the browser here.