SanDisk unveils 128GB Extreme PLUS microSDXC with gimmicky 'Works with GoPro' scheme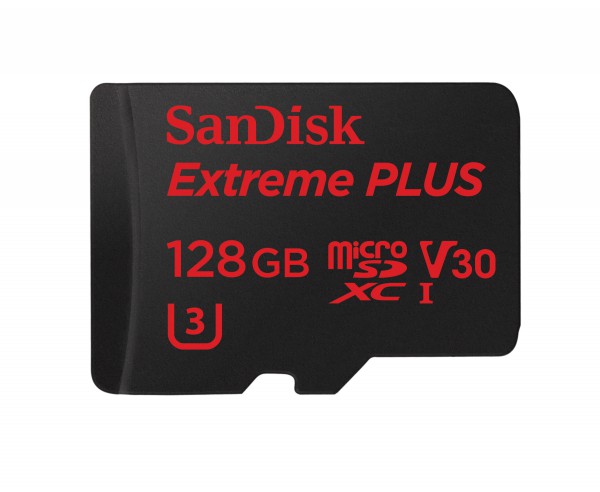 Micro SD cards are constantly getting bigger, faster, and more affordable. I purchased a 200GB SanDisk card from Amazon recently for $59.99 -- mind boggling. This will work brilliantly in devices such as the HTC 10, which supports cards up to a theoretical 2TB.
Today, SanDisk announces its newest such card, the 128GB Extreme PLUS microSDXC. The card is fast, and should be reliable, as SanDisk says it is "shockproof, temperature-proof, waterproof, and X-ray-proof". The company is quick to tout another aspect of the card, however, but it seems very gimmicky. SanDisk explains that the card is one of the first cards to carry the new 'Works with GoPro' designation.
"Works with GoPro is a verification program for products that work with GoPro cameras. Once verified, products have the option to feature a Works with GoPro logo so consumers can easily identify compatible products for their GoPro. Additionally, SanDisk is working with GoPro to ensure their products work optimally with GoPro's lineup. The SanDisk Extreme and SanDisk Extreme PLUS microSD cards in 16GB, 32GB, 64GB and 128GB capacities have been verified as Works with GoPro cards, and are recommended for the latest Hero GoPro cameras, the Hero 4 Silver, the Hero 4 Black, and the Hero Session", says SanDisk.
The company further explains, "the SanDisk Extreme PLUS microSD cards can capture fast-action photos, shoot continuous burst mode, or record 4K UHD video with UHS Speed Class 3 (U3) and UHS Video Speed Class 30 (V30) performance. The quick read speed of up to 95MB/s saves users time when transferring high-resolution images and 4K UHD videos, making them ideal for action cameras, MIL cameras and Android-based smartphones and tablets".
While the 'Works with GoPro' branding can help consumers to find a card that is fast enough to work with these cameras, it doesn't mean cards that do not have it won't work well. In other words, it is possible that consumers will spend more for a card with this branding, thinking a speedy and less expensive card is not compatible.
This is not the first such scheme involving similar branding, as there have been cards that list video game console compatibility, for example. Historically, these cards tend to carry a premium, sadly.
If you want to purchase the SanDisk 128GB Extreme PLUS microSDXC card, it should be available this month for $249 -- quite expensive.
Do you think the 'Works with GoPro' branding hurts or helps consumers? Tell me in the comments.