Apple's MacBook now offers better performance, longer battery life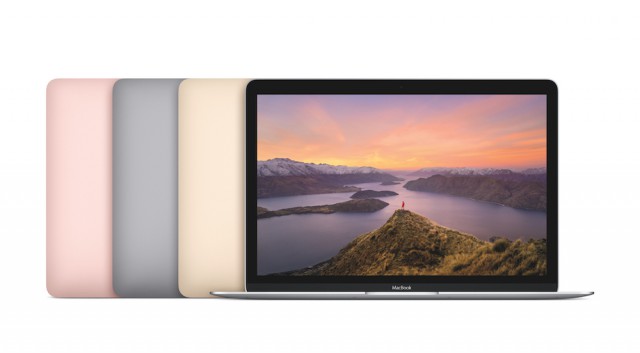 Apple has announced the first MacBook refresh, a year after the introduction of its thinnest and lightest laptop. The device gets the latest Intel processors, better graphics performance, faster SSD storage and longer battery life. Also new is a rose gold finish, on top of the existing gold, silver and space gray.
The 2016 refresh for the 12-inch MacBook brings sixth-generation dual-core Intel Core M processors with speeds of up to 1.3 GHz and Turbo Boost of up to 3.1 GHz, 1866 MHz RAM and HD Graphics 515, which is said to be 25 percent faster than in the original model.
There are two standard processor options available: a 1.1 GHz Core m3 with Turbo Boost of up to 2.2 GHz, which is offered in a configuration with 8 GB of RAM and 256 GB of storage, and a 1.2 GHz Core m5 with Turbo Boost of up to 2.7 GHz, offered in a configuration with 8 GB of RAM and 512 GB of storage. The former costs $1,299, while the latter can be had for $1,599.
The top spec mentioned in the second paragraph is for a configure-to-order option, which enables users to upgrade to a Core m7 processor with the maximum clock speed and Turbo Boost.
Apple does not say just how much faster the new flash storage is, but we do have updated battery life estimates: up to 10 hours of Wi-Fi browsing and up to 11 hours of video playback via iTunes.
"MacBook is the thinnest and lightest Mac we have ever made and it's our vision for the future of the notebook", says Philip Schiller, Apple's senior vice president of Worldwide Marketing. "Customers are going to love this update to MacBook, with the latest processors, faster graphics, faster flash storage, longer battery life and a beautiful rose gold finish".
The first MacBook refresh focuses on fixing the laptop's performance, which has been criticized by reviewers and users alike, but does not address its limited connectivity options. The laptop still packs only a single USB Type-C port, which doubles as a charging port and video output port.
The MacBook refresh is not the only thing that is new in Apple's MacBook line, as the company has also announced that the 13-inch MacBook Airs now ship with 8 GB of RAM as standard.
As a 13-inch MacBook Air owner, I can say that this bump in RAM is long overdue. The laptop, while it offers sufficient power for day to day tasks, can sometimes feel sluggish when RAM-intensive applications are running. With the switch to 8 GB of RAM, however, the 13-inch MacBook Air is now a more appealing option in this space, when compared to something like a Microsoft Surface Pro 4.