Google makes Apple's iPhone even better with amazing 'Gboard' keyboard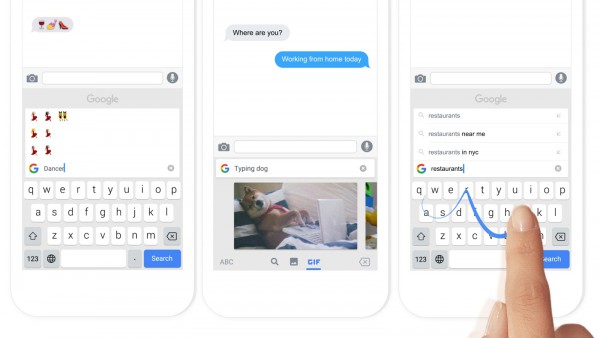 Even though I own an iPhone, I am not an Apple "fanboy". I use both Linux and Windows on the desktop, and embrace most of Google's services. Quite frankly, if Google pulled its offerings from iOS, I would probably switch to Android. In other words, I am deeply entrenched in the search giant's ecosystem.
Today, Google releases a new keyboard for the iPhone. Called "Gboard", it drastically improves the typing experience on Apple's smartphone in many ways, including "Glide Typing", emoji search, and animated GIF search to name a few. If you own an iPhone, stop what you are doing and install it now. Trust me, folks.
"Searching and sending stuff on your phone shouldn't be that difficult. With Gboard, you can search and send all kinds of things -- restaurant info, flight times, news articles -- right from your keyboard. Anything you'd search on Google, you can search with Gboard. Results appear as cards with the key information front and center, such as the phone number, ratings and hours. With one tap, you can send it to your friend and you keep the conversation going", says Rajan Patel, Principal Engineer, Google.
Patel further says, "you can search for more than just Google search results. Instead of scrolling to find
or
, search for "dancer" and find that emoji you were looking for instantly. Even better -- you can search for the perfect GIF to show people how you're really feeling. Finally, Gboard has Glide Typing, which lets you type words by sliding your finger from key to key instead of tapping -- so everything you do is just a little bit faster".
The keyboard was released earlier today -- in the USA at least -- and I installed it as soon as I could. I was dubious that I would like it, but was immediately blown away by the clean look. The refreshing design is more modern than Apple's stock offering, giving me positive vibes.
While it looks great, the star of the show is functionality. On the top left of the keyboard is a Google logo. Once tapped, the user can search from within the keyboard. You can choose normal web search results, plus both still images and animated GIFs. The results can then be copied into the app you are using.
My favorite aspect, however, is searchable emoji. I may not be a millennial, but I enjoy using the symbols like many of them do. Emojis can enhance a communication by better expressing tone and intention. With Gboard, mindlessly scrolling through emojis to find the right one ends. Instead, for instance, you can search for "poop" to get the poop emoji. Genius!
The keyboard even offers Glide Typing, which is similar to other keyboards, such as Swype. Rather than pecking at the screen, you drag your fingers to the letters, and select the word. It works quite brilliantly here, and I hope Apple adopts this feature for stock too.
True, by enabling this keyboard, you are giving Google access to your text, almost like a key-logger. This is the nature of using any third party keyboard on iOS. You have to trust the search giant to feel comfortable using it. If you are already using its other services like Gmail, YouTube, and Maps, what's one more thing, right?
If you want to install it on your iPhone, you can get it here. It's currently only available in the US, but Google will be introducing it into other countries, and in other languages, as time goes by.
What do you think of Gboard? Tell me in the comments.