Ulefone Vienna: A competitive phablet that doesn't break the bank [Review]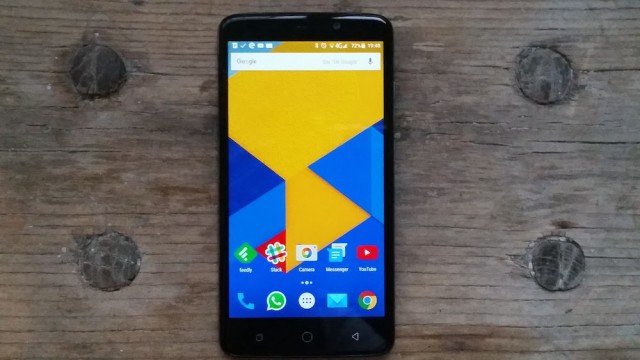 Up and coming Android manufacturers are proving that you do not have to spend hundreds and hundreds of dollars to get a good smartphone. The Xiaomi Mi4c, which I reviewed late last year, is a fantastic alternative to big-name devices from the likes of Samsung and LG that does not break the bank. The new Mi4s is shaping up to be even better, and the Mi5 looks to be more impressive still.
But, say you prefer something that's a bit larger that is also relatively inexpensive. Well, in this case, you should take a look at the new Ulefone Vienna, which packs a big display, large battery, nice camera, and competitive specs, all at a sub-$200 price point. You can read my impressions below.
In the Box
The Vienna ships in one of the nicest packages I have seen, ever. It is a large but relatively thin box, which contains the device, a USB cable and charger, SIM ejection tool, and rubber cover. There is also the usual literature, which explains some of the smartphone's features.
Upon taking the Vienna out of the box I noticed that it comes with a screen protector already applied. Depending on how you like your smartphones, you may or may not want to keep it on. Fortunately, it is very (too) easy to remove. But, once it is off, you will not want (or be able) to put it back again. (I prefer the feel of the Vienna's display without it installed.)
Notice that there are no headphones in the box. But very few smartphones seem to offer them these days at such a low price point, so you can expect this to be the case anyway. Vienna is advertised as a smartphone for audiophiles, so Ulefone does make up for this in a way.
The Vienna comes in at 153.5 x 77.85 x 8.6mm and 156 g. For a device of this size, those are good figures; the weight is not an issue and the device is easy to handle for a phablet.
Design
Things are looking rather good once you take the device out of its box. It is nice to hold in the hand, it is easy to handle and everything is where you would want it to be. The smartphone is nicely designed, with a clean finish on the back and clicky buttons on the side. The back is not metal, though it looks like it from the photos. It is made of plastic, and it feels quite solid in the hand. I expect it will be very durable too.
What really impresses me about it is the fact that there is a fingerprint sensor on the back, which is a very nice feature to have on a smartphone. In this case it works very well, unlocking the phone quickly after resting your finger on it. The feature is very easy to set up too, though the design of the software is a bit dated. Also on the back is the loudspeaker; I find its positioning to be good, as I did not find myself accidentally covering it and muting the sound.
On the right side you will find the volume controls and the power button, and on the left side there is a factory-programmed button which lets you open the voice recorder (one press) and the camera app (double press). It cannot be currently customized by the user.
On the bottom is the microUSB port for charging and data transfer, and at the top sits the 3.5mm headphone jack. There is no USB Type-C here, as you might find on other devices, but at least all your cables still work with it, which is nice.
There are two omissions to note. One is the LED indicator. Normally, you would find it above the screen, but in this case there is not one. This is, obviously, a cost-cutting measure; I would like to see Ulefone finding a way to add this on its next devices. Surprisingly, I did not miss it as much; normally I ignore lots of notifications, as I handle most things on my laptop, but I am sure that I am in the minority here. And the other is the lack of illumination for the capacitive buttons. They are labeled clearly and you are unlikely to press a different one at night, but it is something worth mentioning anyway.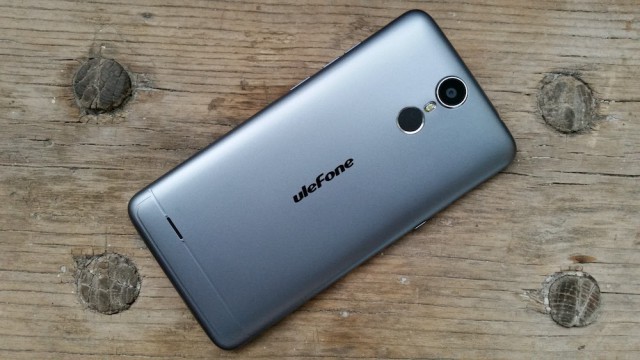 Display
The display is one of the main attractions for the Vienna. It is a 5.5-inch screen with a resolution of 1,080 by 1,920, and is protected by Corning's Gorilla Glass 3. They would not look out of place on a flagship launched in 2015 -- in fact, they do not according to Xiaomi and its Mi5 and Huawei and its P9 -- which makes it more impressive to see such a large screen with a still-high-end resolution being offered on a device in this segment.
Being able to buy a phablet with competitive specs at a sub-$200 price point is likely why many of you are looking at it. So, how does it perform? As you might imagine, specs are not everything though. They do not tell the whole story, like how does it perform outdoors or how nice it is to look at.
And, in that respect, the Vienna's display is good, mostly. I had no trouble seeing what's on the screen under direct sunlight, and I also had no issues reading things in Chrome or watching videos on YouTube. In fact, I have been quite pleased with it. With one exception, namely an odd flickering in the bottom left corner of the panel.
That's noticeable on a bright background with, say, a pop-up menu in the foreground. I am not sure why it is there, but this could very well be handled under warranty. This is something that is worth mentioning here, even though it could very well be an isolated issue with my review unit, which, except for this issue, has been great from a build quality standpoint.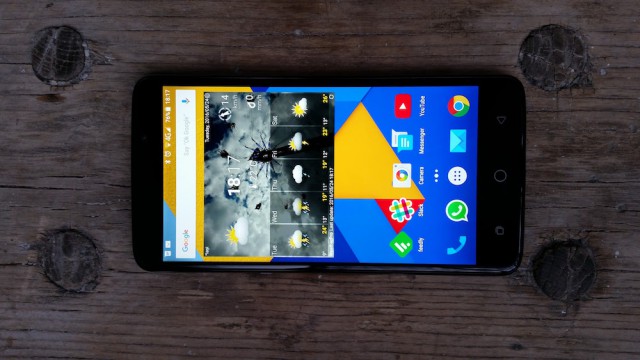 Performance
The Vienna is equipped with a 1.3 GHz octa-core MediaTek MT6753 processor, Mali T720 graphics, and 3GB of RAM. Those are very impressive specs for a device in this price range, and I have to say that this also shows in day to day performance.
The device performs very well during daily use, with no major issues to report. There are some hiccups here and there, but generally there is no lag and the device is responsive when opening apps, switching between apps, turning things on and off and so on. The amount of RAM helps with multitasking, as the phone can keep a few apps running in the background before it suspends them.
Normally this is where thing would end, but for this review I have turned to some benchmarks for a more in-depth look at how it performs. Below are screenshots of the test results in 3DMark, AnTuTu, Basemark OS II, Basemark X, Geekbench 3, GFXBench GL, and PCMark. If you want to see more test results, just drop a comment below.
Camera
The smartphone is equipped with a 13 MP, Panasonic-made camera with f/2.0 aperture and dual LED flash. It can record up to 1080p videos. On the front there is a 5 MP camera shooter, which is oddly limited to 480p video recording. As with the launcher, I have skipped the default camera app and went with Google's offering. The default software is too busy for my taste, and I found no quality difference between the two apps.
I did not expect the Vienna to take good pictures, but it somehow manages to produce quality results for its class. I have used it in a variety of scenarios, and it performed well in all conditions. It is no rival for $600 flagships, but it does the job nicely for what is basically an affordable Android device.
Photos from the rear-facing camera only suffer in low light, where you have to be extra careful not to move the device while snapping photos. There is no optical image stabilization to help with that, so you will have to rely on your steady hands to do the job instead.
I have found the front-facing shooter to lag behind the main camera, but this is no surprise. Front-facing cameras always tend to produce poorer results. I do not take lots of selfies, but if you do this is something to keep in mind.
Video quality is fine when using the rear-facing camera, but the front shooter, due the low resolution that's employed, leaves something to be desired. Again, that is something that you expect from a device in this price range, so there are no surprises here.
Audio
Ulefone brands Vienna as a smartphone for audiophiles, and while I am no expert when it comes to sound quality I can say that the smartphone's rear-facing speaker is loud enough for my taste and the sound coming out of it is nice. Same thing when it comes to playing music through the headphones. I am happy with the audio.
For folks who prefer a meatier sound than what the default settings offer there are two Ulefone-added modes that should improve sound quality. I have noticed a difference when flicking on BesAudEnh, which is designed for headphone use. My favorite tunes sound better with it on; I recommend turning it on right away. There is also a mode called Lossless BT mode, which should improve sound quality while streaming music via Bluetooth.
I am one of those folks who still call people, and when it comes to sound quality here there are also no issues to report. I have had no trouble hearing the other person nor have I had them complaining either. The earpiece is very loud; I've found myself keeping the volume at a lower level, and I am happy that there is plenty of room for adjustment in noisy environments.
Storage
Another strong suit of the Vienna is its storage capacity. Normally, smartphones in this price range offer 16 GB of storage, likely skimping on the possibility to expand it. This device, however, ships with 32 GB of internal storage and it also has a microSD card slot (maximum supported size is 64 GB, though I assume you can go even higher if you want).
This means that you should have no trouble storing whatever apps and games you may want to use, lots of photos, and all your favorite music too. In this regard, the Vienna is great.
Battery Life
The Vienna is equipped with a 3,250 mAh battery, which is typical for a device of this size. I have used it just like I use any other smartphone that I test, with all my accounts set up, connected to Wi-Fi while at home and on 4G while I'm out, and I found that the smartphone can get me through a day of use. Screen on time depends on how much I use the phone, but I saw roughly four hours one day.
That is not very impressive, if you consider just how big the battery is and the fact that it only has a 1080p display. However, it does have an octa-core processor and the software may not yet be fully optimized yet, so there is also that to consider.
Software
Ulefone has kept the amount of customizations made to Android 5.1 Lollipop to a minimum, only choosing to add a couple of tweaks here and there. And that is good thing, because it makes the device look very similar to a Nexus handset after installing Google's launcher on it.
What you get, atop of Android 5.1 Lollipop, are basically a few added features in the Settings menu and a different launcher. I prefer to use Google Launcher, as it generally works better than any official launcher I have used (including this one) while also looking better too.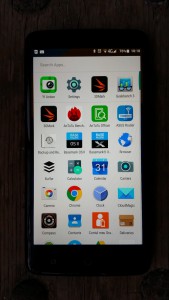 In the Settings menu you will find a number of options that let you wake up the device by double tapping on the display, silence calls and alarms by putting it face-down, and so on. These are grouped under Smart Settings, which also includes some "non-touch" (air) gestures.
You will also find a permissions manager, which lets you choose which permissions you want to allow for the apps that you install; it does not work for built-in apps. There is also something called HotKnot, which is a MediaTek feature that works similarly to NFC. Under Display, you will find MiraVision, a feature that lets you change display modes. To manage the fingerprints, there is a Fingerprint menu.
It is interesting to see that Ulefone has opted to enable sideloading (known as unknown sources in the Security settings) by default. While it makes it easier for users to install apps from other app stores, it also increases the malware risk. I recommend turning it off, and only enabling this feature when you need it.
It is also interesting to see that the Vienna, while running the May firmware, only has the November 2015 Android security update installed. Google has released updates every month since, but Ulefone has not yet made any of them available to customers.
Thankfully though, the latest firmware is available through its site, though it is hosted on OneDrive which makes downloading all the files a rather long affair. Installing it is not super easy either, as MediaTek's software and the necessary drivers are not compatible with Windows 10 or OS X, so I had to resort to some tricks to get the firmware loaded on the device.
Another issue is the fact that while the capacitive keys are, in this order, recents, home, and back Ulefone has opted to program them to menu, home and recents, and back. It's counterintuitive, and there is no way that I could find to change this behavior to what I consider default: recents, home, and back.
Lastly, I believe that Ulefone should make it possible for users to disable some of the built-in apps. For instance, I have no use for the default browser, as I prefer to navigate using Chrome and only see it in the app drawer. Not a big deal, but, again, something worth mentioning.
Overall, I find the software to be a mixed bag. I love that Ulefone has kept customizations to a minimum, but I would like to see the company putting more effort into polishing its tweaks and keeping the software up to date, at least the security update level. Ulefone has promised to upgrade the Vienna to Android 6.0 Marshmallow in June, and, hopefully, it will also fix the issues I have mentioned above.
Verdict
Overall, Ulefone has done a nice job with the Vienna. The smartphone offers good value for money, mostly due to the hardware. Except for the display issue I mentioned, you get an attractive package in terms of display, camera, processor, RAM, and storage. Ulefone has picked all the components wisely, offering a nice balance between features and cost.
The thing that holds Vienna back somewhat is the unpolished software. Ulefone has some work to do in this regard, but all of the things that I mentioned in the section above are easily fixable with little effort. That said, the fact that the customizations are unobtrusive is a major plus in my book. I expect the Android 6.0 Marshmallow to deliver noticeable improvements, though how things will change remains to be seen next month.
If you want to buy an Ulefone Vienna, the smartphone is currently available at GeekBuying for just $159.99.