What is the most popular Surface tablet?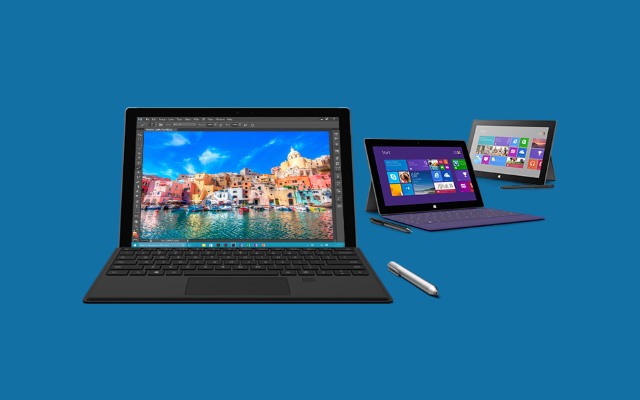 While we know how much revenue the Surface line generates, as Microsoft posts these figures in quarterly earnings reports, the same cannot be said about unit sales. The software giant prefers to keep these numbers under wraps, leaving us in the dark with regards to which one of its Windows-powered tablets is most popular.
However, a new report by cross-promotion network AdDuplex shares some light on the matter, giving us a usage share breakdown for the six most popular Surface devices, including the most expensive and controversial of the bunch, the Surface Book.
The podium looks quite interesting, with Surface Pro 3 leading the pack with 33.3 percent usage share. It is followed by Surface Pro 4 with 30.9 percent and Surface 3 with 21.5 percent, both of which are the latest-available models in their respective segments.
In fourth place is the original Surface Pro, with 6.9 percent usage share, while the fifth and sixth positions are occupied by Surface Pro 2 and Surface Book, respectively. As you may have noticed, neither the original Surface RT nor its successor, Surface 2, make the list.
The reason for that is because AdDuplex focuses only on the Surface devices that run Windows 10 and, as you may know, neither of the two aforementioned tablets run Microsoft's latest operating system. However, based on my estimates, these Surface devices couldn't have sold in large numbers, so they likely wouldn't have affected the rankings much had AdDuplex decided to include older versions of Windows in the pool.
Both Surface Pro 4 and Surface 3 look to be quite strong performers, proving that Microsoft has managed to get the formula right with these models. What is disappointing is how Surface Book seems to be selling which, as you can see, is not well -- Surface Pro 4 is outselling it at a rate of nearly nine to one.
AdDuplex points out that Surface Pro 4 is available in more markets than its more premium sibling, though it also suspects that there is more to the unimpressive Surface Book sales than its limited availability.
AdDuplex has compiled this ranking based on the data that it collects from apps that use its advertising services, so it may not accurately reflect the Surface landscape. It is the only report of this kind that I have seen so far, and until Microsoft releases official sales figures it serves as the only indication of how the Surface models fare against one another in terms of usage share.