Starbucks app comes to Windows 10 Mobile -- maybe Microsoft's platform isn't dead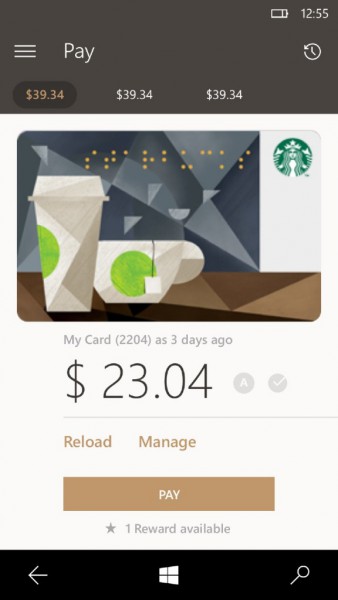 Let's be honest, folks -- Windows 10 Mobile is not a popular phone operating system. Compared to Android and iOS, Microsoft's OS is largely insignificant. In fact, many people -- including my colleague Mihăiță Bamburic -- consider it a dead platform without a future.
Today, however, Windows 10 Mobile gets a significant app, showing that maybe it isn't dead after all -- Starbucks. While you may not view it as a big deal, many people depend on the coffee chain's app to pay for drinks and find locations. The fact that Starbucks put resources towards the app should make Microsoft fans very happy.
"Today, we're excited to share that the Starbucks app for Windows 10 Mobile is available today in the Windows Store and is free to download. The app is available for customers in the U.S., UK and Canada", says Mollie Ruiz-Hopper, Editor-in-Chief, Windows Blog.
Ruiz-Hopper further says, "the Starbucks app for Windows 10 Mobile allows customers to use their Windows phone to pay at more than 7,500 Starbucks stores -- no wallet necessary. Starbucks customers can also use the app to manage your registered Starbucks Cards, locate a Starbucks near you and send an eGift, all using your mobile device".
Unfortunately, this app is not as powerful as the iOS and Android versions. On my iPhone, for instance, I can order drinks in advance, get access to free premium apps, and see the song currently playing in the location. None of those things are available on the Windows 10 Mobile version.
For now, it just serves as a way to pay for food and beverages, plus find locations. You know what? That is better than nothing. Hopefully Starbucks is committed to improving the app as time marches on.
Does the Starbucks app signal an upcoming 180 for the Windows 10 Mobile platform, or is this merely a blip? Time will tell. Obviously Microsoft has an uphill battle, but with the very successful adoption of Windows 10 on the desktop, it is absolutely possible that an increased number of consumers will be attracted to it on mobile too.