Now you need to buy a TV licence to watch BBC iPlayer, and privacy advocates are concerned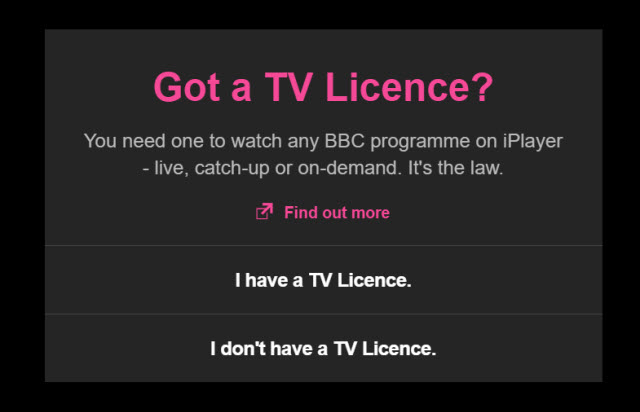 As of today, Thursday 1 September, if you stream any content from BBC iPlayer without owning a TV licence, you are breaking the law. But as with licences for televisions, it's not clear how -- or, indeed, if -- the BBC will be checking to see whether watchers have paid up or not.
If you fire up BBC iPlayer now, you'll be greeted by a nag screen that asks: "Got a TV licence? You need one to watch any BBC programme on iPlayer -- live, catch-up or on-demand. It's the law". Viewers need to click to indicate whether or not they have a licence, and of course there is nothing to stop people from lying. What is not known, though, is whether privacy-invading snooping will be used to perform licence checks.
The introduction of the TV licence requirement has been on the cards for a while now. Previously it was only necessary to have a license to watch or record live broadcasts, and time-shifted streams were left exempt. As BBC iPlayer is only accessible, officially, in the UK, many people overseas turn to VPN tools to spoof their location. It's likely that similar tactics will be used by concerned viewers without licences, but the BBC has already started to block users who are using VPN services.
Over the years, the threat of (spoof) TV detector vans roaming the streets was enough to scare would-be licence evaders into coughing up the cash.  But there is a lack of transparency with the latest move that means no one is quite clear whether underhand tactics will be used to spy on users, or if there is really no way to check whether a user has a licence or not.
Speaking to the BBC, TV Licencing said, somewhat mysteriously:
We have a range of enforcement techniques which we will use and these have already allowed us to prosecute people who watch on a range of devices, not just TVs.
While mythical detector vans may have done the trick years ago, people are far more savvy these days, and more likely to ask questions. Some of the loudest questions are coming from those concerned about privacy. Richard Patterson, director of Comparitech.com, is concerned that the new rules may not be enforceable without compromising privacy:
While the BBC has denied it will be snooping on WiFi usage, anyone who values their privacy should still be concerned exactly how the BBC might be monitoring their internet usage. One method to safeguard your privacy is using a virtual private network, or VPN, to connect to the internet; this will change your perceived location and encrypt your traffic hiding you from snooping eyes. VPNs are already popular with holidaymakers and those living abroad who want to skirt iPlayer's restrictions on viewing content outside of the UK. However, the BBC has blocked a number of popular VPN services, so you need to choose carefully.