Critics lambast Mark Zuckerberg after Facebook censors iconic image of Vietnam war for nudity [Update -- Facebook backs down]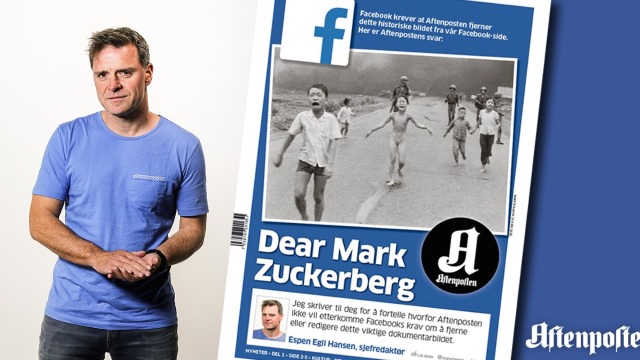 The photograph taken by Nick Ut showing Kim Phúc (sometimes referred to a 'napalm girl') fleeing a napalm attack is one of the most iconic images of the Vietnam war. It's a picture that's seared into the memory of anyone who has seen it, and the Pulitzer prize-winning photograph is often held up as an anti-war image.
But Facebook sees things differently. The company saw fit to censor the image by deleting a post by a Norwegian writer who used the photo. The writer, Tom Egeland, was also suspended from the site. Facebook stands accused of abusing its position as "the world's most powerful editor" in a scathing attack by the editor-in-chief and CEO of Norway's largest newspaper, Aftenposten. Today Espen Egil Hansen uses a front page editorial to launch a blistering diatribe against Mark Zuckerberg.
Facebook's censorship of content is something that generates a great deal of discussion among users and critics alike, but rarely has there been quite such a public response to something. Hansen's editorial takes the form of a letter to Mark Zuckerberg in which he accuses the head of Facebook of creating "rules that don't distinguish between child pornography and famous war photographs".
Some context.
Egeland posts an article a few weeks back about "seven photographs that changed the history of warfare". It featured, understandably, Ut's "The Terror of War". This week, the Aftenposten offices received an email from Facebook asking that the image be removed. Before anyone had had a chance to respond, says Hansen, Facebook "intervened [...] and deleted the article as well as the image from Aftenposten's Facebook page".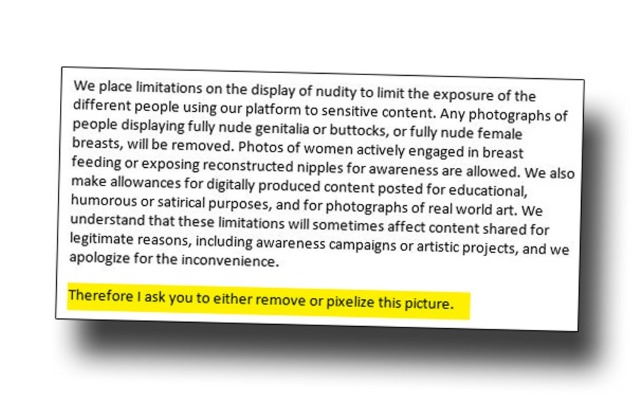 Hansen's letter warns that Zuckerberg and Facebook wield a great deal of power:
Facebook has become a world-leading platform for spreading information, for debate and for social contact between persons. You have gained this position because you deserve it.

But, dear Mark, you are the world's most powerful editor. Even for a major player like Aftenposten, Facebook is hard to avoid. In fact we don't really wish to avoid you, because you are offering us a great channel for distributing our content. We want to reach out with our journalism.

However, even though I am editor-in-chief of Norway's largest newspaper, I have to realize that you are restricting my room for exercising my editorial responsibility. This is what you and your subordinates are doing in this case.

I think you are abusing your power, and I find it hard to believe that you have thought it through thoroughly.
He goes on to say that "free and independent media have an important task in bringing information, even including pictures, which sometimes may be unpleasant, and which the ruling elite and maybe even ordinary citizens cannot bear to see or hear, but which might be important precisely for that reason". Facebook's famous and controversial algorithms are highlighted as being part of the problem and a thought experiment is posited:
Mark, please try to envision a new war where children will be the victims of barrel bombs or nerve gas. Would you once again intercept the documentation of cruelties, just because a tiny minority might possibly be offended by images of naked children, or because a paedophile person somewhere might see the picture as pornography?
Suggestions that Facebook should regard this important and iconic image differently to other photographs containing nudity have fallen on deaf ears. In a statement to the Guardian, Facebook said:
While we recognize that this photo is iconic, it's difficult to create a distinction between allowing a photograph of a nude child in one instance and not others. We try to find the right balance between enabling people to express themselves while maintaining a safe and respectful experience for our global community. Our solutions won't always be perfect, but we will continue to try to improve our policies and the ways in which we apply them.
It's a response unlikely to please Hansen. He says that he is concerned that "the world's most important medium is limiting freedom in stead of trying to extend it, and that this occasionally happens in an authoritarian way". And that's precisely what seems to be happening.
Update: Facebook has reversed its decision. In a statement the social network says:
After hearing from our community, we looked again at how our Community Standards were applied in this case. An image of a naked child would normally be presumed to violate our Community Standards, and in some countries might even qualify as child pornography.

In this case, we recognize the history and global importance of this image in documenting a particular moment in time. Because of its status as an iconic image of historical importance, the value of permitting sharing outweighs the value of protecting the community by removal, so we have decided to reinstate the image on Facebook where we are aware it has been removed.

We will also adjust our review mechanisms to permit sharing of the image going forward. It will take some time to adjust these systems but the photo should be available for sharing in the coming days. We are always looking to improve our policies to make sure they both promote free expression and keep our community safe, and we will be engaging with publishers and other members of our global community on these important questions going forward.
Photo credit: Aftenposten