Secure messaging environment delivers safe online collaboration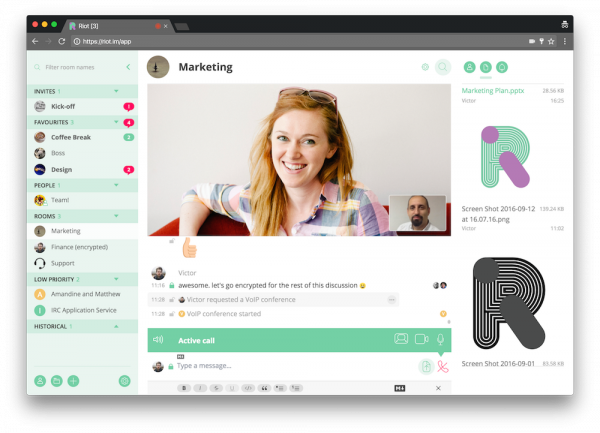 With workforces being increasingly mobile and decentralized, they need effective tools to aid collaboration. Whilst email is commonly used it lacks the rich feature set and security features of dedicated applications.
A newcomer to the collaboration market, real time messaging company Riot is today publicly launching its secure messaging environment that aims to bring all your online collaboration into one workspace.
Riot enables teams to easily share data and collaborate on projects across different communication apps and third party tools. By using Matrix-powered bridging to external networks such as Slack, IRC, Twitter and Gitter, Riot frees users from closed silos and lets each team member keep using their favorite messaging app.
It also offers hosted integrations to third party apps like GitHub, Jira and Jenkins, and uses the attractive open framework of Matrix for bots and integrations development. Additionally, Riot benefits from Matrix' community's work, opening up the number of potential integrations to endless opportunities.
Riot keeps conversations secure with interoperable, end-to-end encryption (so users alone can decrypt the conversation) using Matrix's Megolm, an advanced cryptographic ratchet. Teams can also choose to run their own server to comply with company policy if desired. Riot delivers a collaboration environment which is decentralized and encrypted from end to end.
"Riot brings back the power to the users," says Amandine Le Pape, Head of Product for Riot. "The power to choose the messaging app they want to use, the power to use any integration available in an open ecosystem, to encrypt their conversations, to run their own server and fully own their data, to choose how they want to be notified, and to innovate on top of an open standard. Riot represents a new era of communication".
Riot is free and open source software, with all of the code published on GitHub. It's available now for Android, iOS and as a web app. You can find out more and take the opportunity to run Riot for yourself on the company's website.