SoftPerfect's World Route is a simple visual traceroute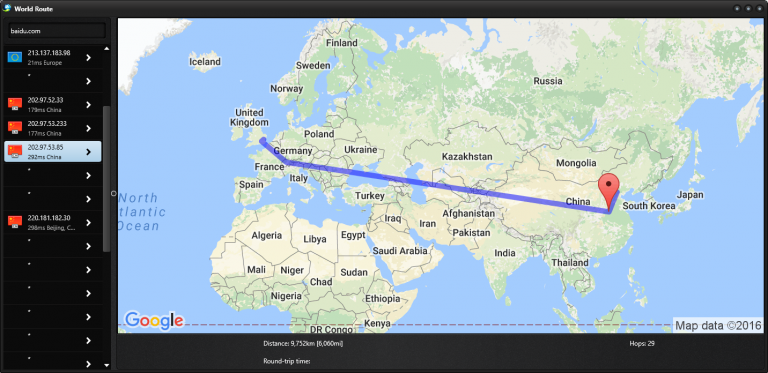 Australian developer SoftPerfect has shipped World Route 1.0, a free for Windows (commercial for Mac) visual traceroute which plots your internet traffic on a world map.
The package is built for simplicity. Type your destination domain or IP address in a box, press Enter and the program begins listing the IP address and geographic location of each hop. Once it's done, the route is drawn over a Google-sourced map, and some summary stats list the total distance of all hops and their round-trip time.
While this works in a basic way, the presentation is poor. The route is drawn with minimal detail on the map, there are no graphic labels to show you where a point on the line might be, and you can't zoom in to see more (it's a bitmap, not a live instance of Google Maps).
Even more annoying, there's no one-step way to save the list of IP addresses and locations (you can only save IP addresses or locations of each hop individually), and there's no option to save the map.
We're normally fans of SoftPerfect products, but it's hard to get enthusiastic about World Route. It's compact, easy to use and doesn't require installation, but the lack of features means it's for users who need the very basics only.
Open Visual Trace Route has the same core idea as World Route, it's much more powerful and complex, and this does bring some issues of its own (you'll need Java, the program installs WinPcap if you don't have it already, there are many more tools and options to explore).
Once you're set up, though, even network novices will quickly spot the improvements over World Route. The program offers far more detail per hop (country, town, latitude, longitude, hostname, IP address, latency, more), a graph highlighting latency and DNS lookup time per hop, plots the route on a fully navigable 3D globe, and can take screenshots, export data to the clipboard or save it as a file.
World Route 1.0 is available for Windows XP and later, and Mac. Open Visual Trace Route runs on Windows 7 and later, Linux and Mac.