WinZip 21 adds direct email support, makes individual file sharing easier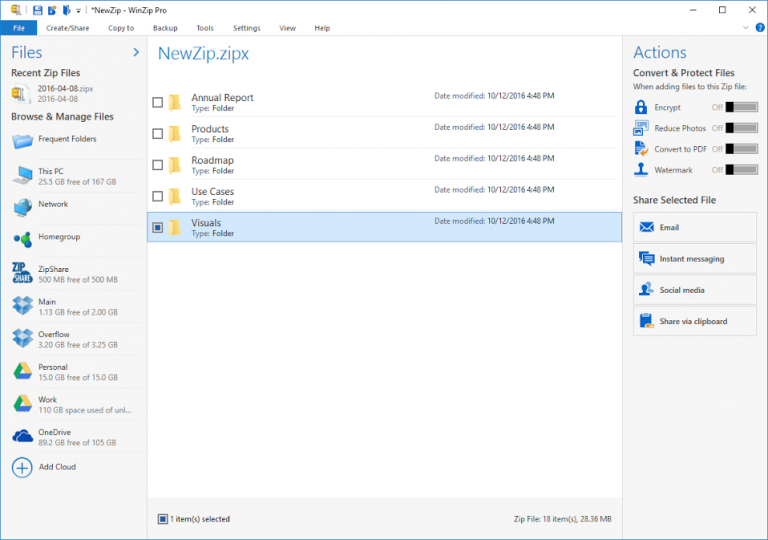 Fresh off the production line comes WinZip 21, a major new release of perhaps the best-known zip utility in the world. Version 21 introduces a number of new features and improvements, including more cloud connections (Pro only), enhanced MP3 file compression and streamlined sharing.
The update builds on WinZip 20, which introduced a new ribbon-based user interface. Version 21 continues to expand its flexibility with additional file and folder interactions.
WinZip 21 ships in three editions, and it's the Pro one that gains the most love with this release. Two exclusive features stand out in particular: first, up to 16 accounts can now be connected on the same cloud services -- all the major providers are supported, including Box, Dropbox, Google Drive and OneDrive.
Second, photo users will benefit from the additional of image metadata to WinZip's preview pane, including dimensions, resolution, file size and more.
Other new features are found in all editions, including Winzip 21 itself. There's a new combined address book feature, making it easy to import contact information from other sources -- including email accounts and social media -- to speed up the mailing and sharing of zip files from within WinZip itself.
Music lovers will also be pleased to learn that WinZip's Zipx format has been enhanced to squeeze an additional 15-20 percent of space out of MP3 files without degrading sound quality.
An "Add a Network location" feature has also been added, giving WinZip users access to network locations from other domains without having to leave the program.
Users now also gain the ability to select and replace individual files with zipped up versions as opposed to creating a single zip archive in a feature described as "streamlined sharing". This is accompanied by a "Send What" feature whereby when zip files are reviewed or change, users can opt to share individually selected files or the entire zip.
Finally, users are now able to share converted files without having to save them first.
WinZip 21 is available as a free trial download for PCs running Windows Vista or later. Also available is WinZip Mac Edition 5 for OS X users. Both WinZip and WinZip Mac Edition cost $29.95 for the Standard edition, while WinZip Pro costs $49.95. An Enterprise edition is also available with extra features such as Enterprise Privacy and Control, and is priced according to volume.