AirPods already sold out online -- here's how to get Apple's wireless headphones before Christmas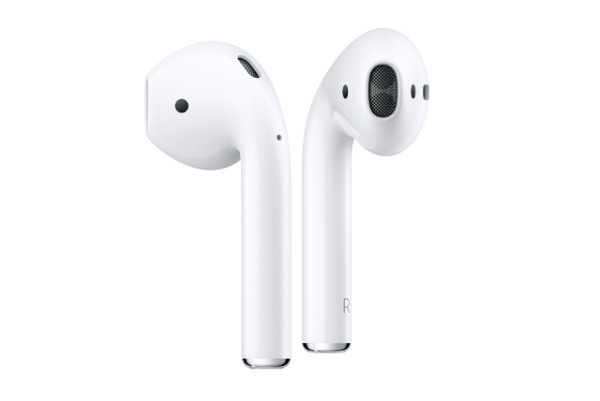 Apple's Airpods are undoubtedly very cool technology. Whether they look fashionable is up for debate, however. While I think they make the user look futuristic and cool, others think they look nerdy -- like someone snipped the wires off a traditional pair of Apple EarPods.
If you did want to buy the AirPods, it has been a very bumpy road. After Apple announced them, they were delayed for mysterious reasons. Today, however, the iPhone-maker makes them available online for ordering. Unfortunately, if you have not already placed an order, they are essentially sold out. While you can still order them, the shipping date is currently four weeks from now -- well after Christmas. If you need them sooner, there is still hope, however. Here is how to get them as early as next week!
"Available today from Apple.com and will start delivering to customers and arriving at Apple Stores, Apple Authorized Resellers and select carriers next week. AirPods will be shipping in limited quantities at launch and customers are encouraged to check online for updates on availability and estimated delivery dates. Stores will receive regular AirPod shipments", says Apple.
ALSO READ: Apple AirPods will forever change the wireless headphone industry
As per Apple, quantities are very limited, and this is apparently very true as AirPods sold out online almost instantly. So, how can you get them in time for Christmas if you didn't already order them? Old school brick-and-mortar shopping. Yes folks, you should prepare to wait in line at Apple retail stores, or other retailers as your only hope. Apple promises that stores will have stock starting next week.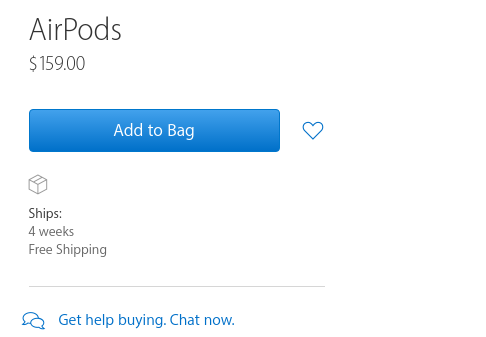 If there is an Apple fan in your life that wants AirPods, you pretty much have to camp out in front of a store, or risk disappointing them. True, you could order them online and print out the receipt with a promise of 2017 delivery, but that is sort of sad. As a last resort, you can, of course, overpay on eBay and similar sites, but that can feel like robbery.
As someone who did quickly order them, mine are scheduled to be delivered on December 21, 2016 -- well before Christmas Day. Keep checking BetaNews for both an unboxing and review.