Classic freeware HostsMan gets its yearly update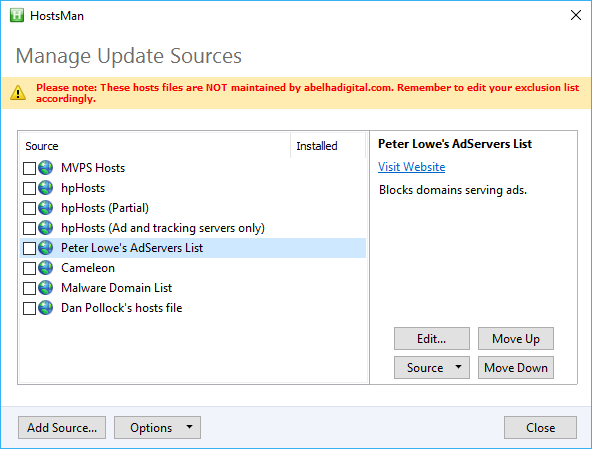 Classic freeware HOSTS manager HostsMan has seen its first update since November 2015. The new release now supports eight HOSTS file update sources, including hpHosts, MVPS Hosts, Cameleon and -- new this time -- "Dan Pollock's host file".
The URLs for "Peter Lowe's AdServers List" and "Malware Domain List" have been updated, so they should be working again.
The Update Manager dialog can now open local update source files in the editor, making it easier to manage and correct any update problems.
Significant bug fixes include restoring HostMan's control of the DNS Client service, and giving you full control of your HOSTS export format on Windows Vista and later.
There are all the core features from the last build. In a click or two you're able to enable or disable the HOSTS file, view or edit it, back up the file or scan it for errors, duplicates and possible hijacks.
All this comes in a compact freeware package which still works on anything from Windows XP SP2 up. Go grab a copy immediately -- it's worth it for the troubleshooting tools alone.
HostsMan is an excellent freeware package for Windows XP and later.