OxygenOS 4.0.1 rolling out for OnePlus 3T, OnePlus 3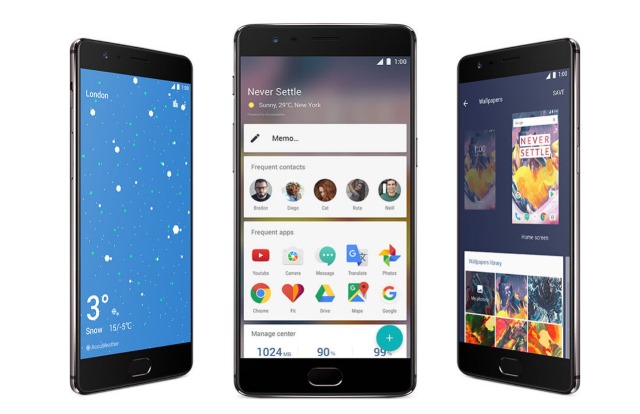 OnePlus kept its word and launched the Android 7.0 Nougat-based OxygenOS 4.0 update for its OnePlus 3T and OnePlus 3 flagships by the end of 2016. But, as is usual with a first major release such as this, a small update is bound to arrive shortly thereafter to resolve some of the initial issues.
So now OnePlus is rolling out OxygenOS 4.0.1, for both the OnePlus 3T and OnePlus 3. The update comes with a couple of changes, as expected, but OnePlus also lists some known problems that users might experience and ways to deal with them.
Compared to OxygenOS 4.0, the latest update for OnePlus' Android 7.0 Nougat-based distribution makes the proximity sensor more reliable during calls, improves system stability and updates the APN settings for a number of carriers.
As far as the known issues are concerned, here's what OnePlus is advising:
Apps might not download from Play Store.

If you are trying to download via Data Roaming, it will not work. This is a known Google issue.
Please follow Google's troubleshooting steps and see if the problem is resolved.
Try turning on Battery Saving Mode and reset Play Store app preferences.
If you have these 3 apps installed: Truecaller, AVG Antivirus and PayTm, please try to force stop or uninstall them before performing download from Play Store.

If you still experience mobile data issues caused by APN, please go to APN settings page and manually choose try all the options. In the case that mobile data is still unusable, please send me a pm along with affected career and device model.
WiFi connectivity might still fluctuate, if you experience this issue, please send me a pm.
OnePlus says that the update is rolling out slowly, being meant to only reach a small number of users today. A broader roll out is expected to start in a couple of days. However, there is a way to get it now, in case it is not available for your OnePlus 3T or OnePlus 3.
You can download a VPN app, like OperaVPN, to change your location to Canada, which is part of the first wave of markets where the update is rolling out. After you install it, turn off the VPN and enjoy OxygenOS 4.0.1.