Logitech unveils BRIO 4K Pro Webcam with HDR and Windows Hello support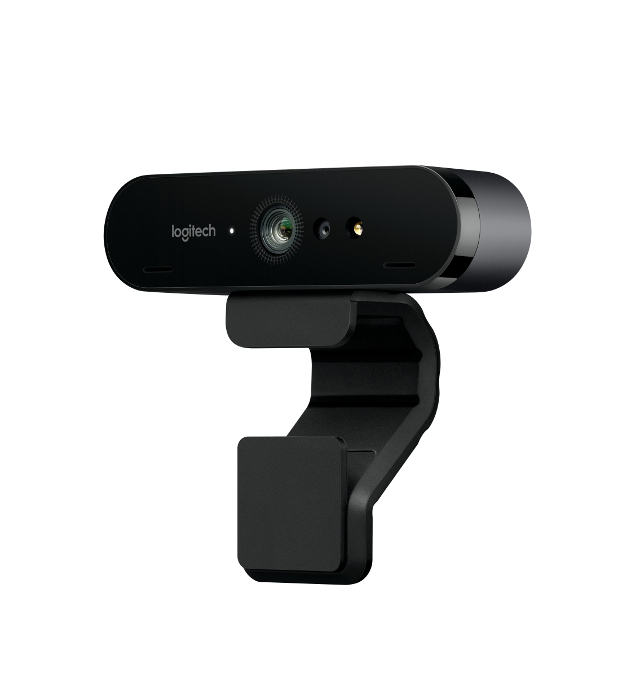 When you buy a laptop nowadays, it will absolutely have a built-in webcam. Some desktop users may have a webcam built into their monitor too. For the most part, those integrated cameras should be passable in a pinch, but the overall performance often disappoints. It is for that reason that many consumers will still buy an external USB webcam.
Logitech has long offered well-reviewed USB webcams, and today, it is announcing what could be the best such camera ever. The BRIO 4K Pro Webcam is capable of recording or streaming 4K content. While UHD support alone makes it intriguing, it also has other notable features like HDR, USB-C connectivity and Windows Hello support. It even comes with a privacy shade in the box. If you want to mount it on a professional tripod, there is threading for that too.
If you aren't familiar, Windows Hello is Microsoft's branding for biometric login. In other words, you can log into Windows 10 using a fingerprint or facial recognition. BRIO handles the latter using infrared. By simply gazing into Logitech's webcam, you can unlock access to your computer. It works wonderfully, and makes securing your PC a breeze.
"Logitech BRIO delivers a premier video recording, streaming, broadcasting and desktop collaboration experience that allows users to take full control of their visual environment. In addition to featuring 4K and 5x zoom, support for Logitech RightLight 3 with HDR delivers great camera performance in all lighting conditions - from low light to bright sunlight, as well as challenging high-contrast or backlit conditions. BRIO users can select between 65°, 78°, and 90° field of view (FOV) to help ensure their camera is focused only on the area they want others to see. Logitech's advanced lens technology with autofocus offers remarkable video quality with great resolution, speed, fluidity, color balance and detail," says Logitech.
ALSO READ: Logitech unveils revolutionary Spotlight Presentation Remote for PowerPoint, Keynote, and more
The company further says, "Business-grade certifications mean you can launch your next presentation or video meeting with complete confidence. Logitech BRIO works with popular business applications, including Skype for Business and Cisco-compatible certifications, as well as all Logitech Collaboration Program cloud video partners such as BlueJeans, BroadSoft, Vidyo and Zoom. BRIO is UVC compliant, providing ultimate flexibility across all VC applications, Windows, Mac or Chromebook."
The USB-C connectivity is quite smart, as Logitech has chosen to divorce the camera from the cable. This way, you can use either a USB-C to USB-C cable or a USB-C to USB-A cable. If you want to record in 4K, you will need a USB 3.0 port, however. If you connect BRIO to USB 2.0, you can still do 1080p.
One of the biggest pain-points about webcams is lighting. If you are having a video chat over, say, Skype, sometimes the picture is too dark, while other times it can seem washed out depending on environment. Logitech's 3rd generation of its "RightLight" technology leverages HDR for the most balanced brightness of any of its webcams.
So, how much does this webcam cost? It is available immediately from Best Buy, Amazon or Logitech directly for $199. It is important to note that there are two product models, however, for the exact same camera. It is sort of confusing, but the "BRIO" branded camera is intended for businesses, and it will be sold in a plain brown box from business channels. The consumer model will be in a prettier retail box with only the "Logitech 4K Pro Webcam" branding.