Microsoft renames Windows Holographic to Windows Mixed Reality as dev kits start to ship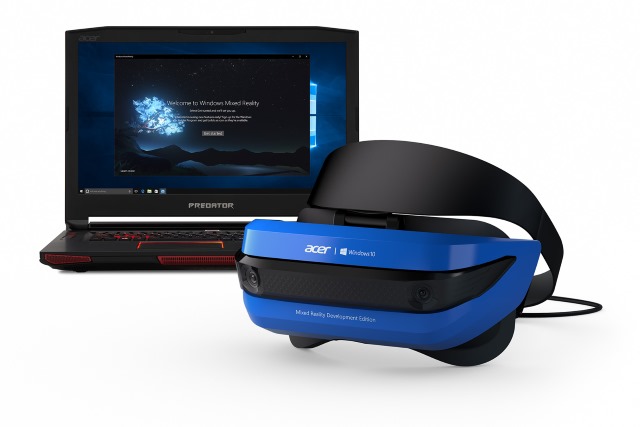 It seems like a little while since we heard anything about Windows Holographic, and that's not something that's going to change any time soon. Microsoft is not killing off the project (and HoloLens lives on), but has revealed that it is now going under a new, more descriptive name: Windows Mixed Reality.
The company says that the change of name is a reflection of the fact that there is a broader vision for the platform. It also helps to convey the idea of virtual-reality-meets-augmented-reality that Windows Holographic/Windows Mixed Reality represents. Microsoft also says that the Acer Windows Mixed Reality Development Edition headset is on the verge of shipping.
The company is aiming to bring mixed reality into the mainstream, and has already revealed the entirely reasonable minimum specs needed to run a headset on a Windows 10 computer. Working with a range of partners, Microsoft says it is ready to deliver the "first mixed reality headsets to deliver built-in inside-out tracking" -- meaning everything necessary is built into the headset, and there's no need for external sensors.
Mixed reality headsets are due to start shipping this month, and at a presentation at the Game Developers Conference (GDC) in San Francisco, Microsoft announced that Acer Windows Mixed Reality Development Edition headsets will ship to developers who attended the session "in the coming months." The specs for the headset are as follows:
Two high-resolution liquid crystal displays at 1440 x 1440
Display refresh rate up to 90 Hz (native)
Built-in audio out and microphone support through 3.5mm jack
Single cable with HDMI 2.0 (display) and USB 3.0 (data) for connectivity
At this stage, headsets are only being sent out to developers, so consumers who are eager to get their hands on one will have to wait a little longer. The name change may catch some people off guard, however. In a statement, a Microsoft spokesperson said:
We're unifying the mixed reality ecosystem around a platform that enables shared experiences and interoperability between headsets. By opening up the Windows Mixed Reality platform to the industry at large, we anticipate the growth of holographic apps will make for stronger experiences and better devices for everyone.