Windows Mixed Reality arrives in Windows 10 build 15048 with a demo you can try!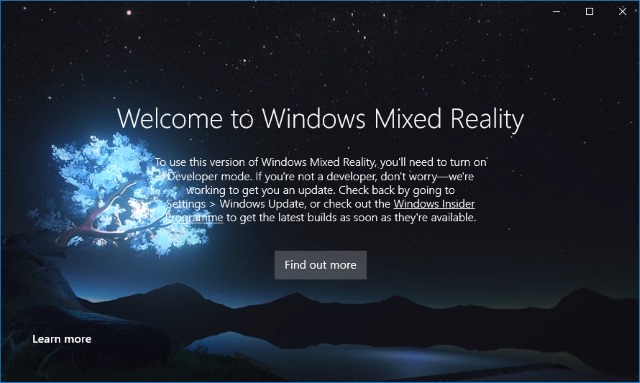 From the look of the changelog for Windows 10 build 15048 that was released a few days ago to Insiders, it looked to be little more than a bug fixing release. But in fact Microsoft has already started to include references to -- and even a portal for -- Windows Mixed Reality.
We have seen reference to Windows Holographic in Windows 10 before, but this is the first time there has been anything to play with. It coincides nicely with Microsoft revealing that Windows Mixed Reality is the new name for Windows Holographic, and it gives Insiders the chance to not only see if their computer meets the recommended specs, but also to try out a Windows Mixed reality simulation.
The first thing you need to do -- obviously -- is to ensure that you've installed build 15048 of Windows 10. Next on the list is to enable Developer Mode in Windows 10. Open up Settings, click Update & security and then head to the For developers section. Select the Developer mode option and click Yes to confirm.
With this done, you can either browse through the Start menu for Windows Mixed Reality, or just hit the Windows key / Start button and perform a search for it. Click the link for the app, and you're greeted by a dark and moody Welcome to Windows Mixed Reality splash screen.
Click Get Started to continue, agree to the terms of use, and the first thing you'll see is a summary of how Windows Mixed Reality will run on your computer; good to know for the future. In the unlikely event that you are lucky enough to find yourself in possession of a Windows Mixed Reality developer kit, you can jump in and try it out -- otherwise you'll have to make do with the simulation.
You can click the Set up simulation (for developers) link and you can browse through a first-person 3D environment using fairly familiar keyboard controls. The W, A, S and D allow for forwards and backwards movement as well as strafing, while the cursor keys allow you to look around. You can also hold down the left mouse button to browse around, and holding the Shift key will let you "run".
It's only a little taster, but it should whet your appetite!