HTC celebrates Vive VR anniversary by launching Viveport Subscription service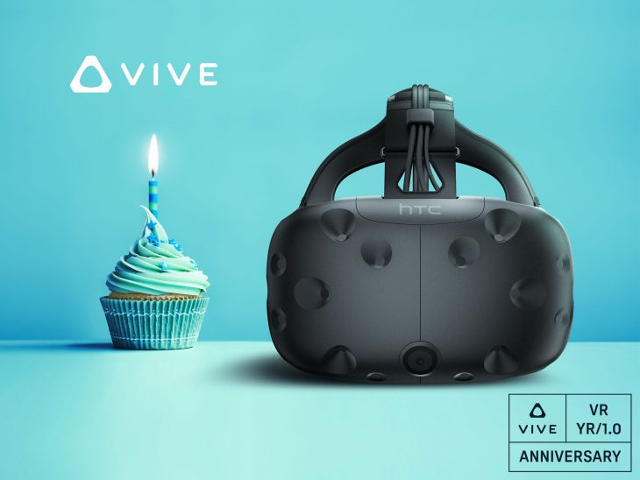 While virtual reality has long been expensive, it has become more achievable in recent years. A VR-ready PC is much more affordable, as are the VR accessories. It still isn't a simple affair, however, as there are competing platforms, such as Oculus and Vive. It can be confusing for consumers to know which to choose.
Today, Vive-maker HTC announces that it is celebrating the one-year anniversary of the commercial launch of the virtual reality platform and hardware. To mark the occasion, existing users will get a free game, while new buyers of the hardware will save $100. More exciting, however, the company is launching Viveport Subscription on April 5. For a paltry monthly fee, users get access to a big library of VR apps and games.
"Making the first Vive Day one to remember is the launch of Viveport Subscription. On April 5, the service will introduce a new way to navigate the hundreds of apps currently available on Viveport. Viveport Subscription customers pay $6.99 a month and choose five titles from an ever-growing library of curated content. They get unlimited access to the apps they choose or they can rotate out their selection every month. All apps in the subscription service are also available for sale, letting customers try an app before they decide to buy," says HTC.
The company further says, "For developers, the subscription model represents an additional revenue channel and a way to reach broader audiences. Viveport Subscription is launching with more than 50 titles available including must-experience VR apps such as TheBlu, Richie's Plank Experience, Everest VR, Fantastic Contraption, Mars Odyssey and more. Vive owners can take advantage of the free one month trial of the service by registering now."
While the Viveport Subscription service is definitely a win for budget-conscious consumers, developers should appreciate its design too. Since HTC limits it to five titles per month, it won't decimate the value of the titles -- there can still be incentive to make a purchase. Sure, there will be consumers that never deviate from using only five titles monthly, but the cap wisely keeps consumers from accessing the entire library.
If you are an HTC Vive owner and you want to get in on the Viveport Subscription service, you can sign up on April 5. In the interim, the company is offering a signup page here so you can be among the first to be alerted when it goes live.