LG G6 is a great smartphone and a legit alternative to Samsung Galaxy S8 [Review]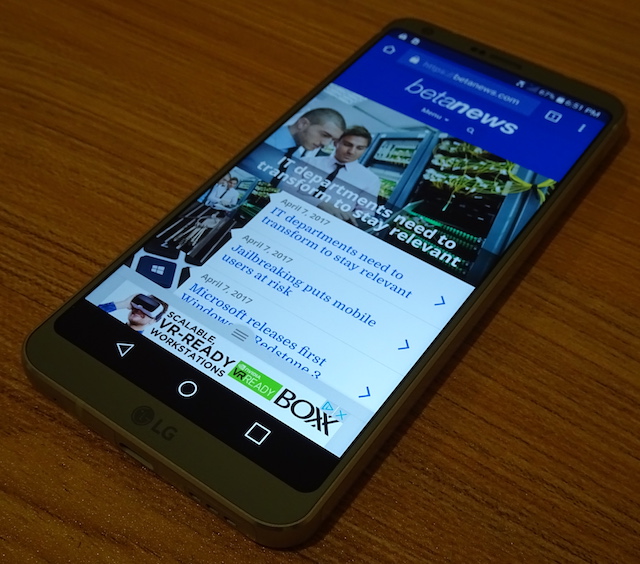 I'm a huge fan of LG's second screen phones, the V10 and V20. These are Android smartphones that are well designed with outside-of-the-box thinking. The company's "G" series of flagships don't conjure the same excitement in my heart. Don't get me wrong, they can be great phones too, but they are sort of, well, boring. The LG G5, in particular, was rather terrible -- a largely panned device. It felt cheap, and provided an underwhelming experience. LG really needs to sell a new model to wash away the bad taste of that device.
I have been testing that new phone, the LG G6, and I can definitely say that it is better than its predecessor. Here's the problem -- LG isn't only competing against its past self, but with other manufacturers, such as Samsung, HTC, and even Apple. There is one question you probably have -- is the LG G6 worth buying over all other flagships, such as the Galaxy S8?
Specs
Chipset: Qualcomm Snapdragon 821 Processor
Display: 5.7-inch 18:9 QHD+ FullVision Display (2880 x 1440 / 564ppi)
Camera:

Front 5MP Wide (F2.2 / 100°)
Rear Dual: 13MP Wide (F2.4 / 125°) / 13MP Standard OIS 2.0 (F1.8 / 71°)

Battery: 3,300mAh (embedded)
Operating System: Android 7.0 Nougat
Storage: 32GB (expandable with micro SD)
Size: 148.9 x 71.9 x 7.9mm
Weight: 163g
Network: LTE-A 3 Band CA
Connectivity: Wi-Fi 802.11 a, b, g, n, ac / Bluetooth 4.2 BLE / NFC /
USB Type-C 2.0 (3.1 compatible)
Colors: Black / Platinum
Other: Water and Dust Resistant / Fingerprint Sensor / UX 6.0 / Dolby Vision / HDR10 / Qualcomm Quick Charge 3.0
Unboxing
Impressions
Let's talk about what makes the LG G6 special -- its thin bezels. Much like the Galaxy S8, the screen is the star of the show, with the rest of the phone seemingly melting away. Unlike the Samsung, however, the screen does not curve on the sides -- some people will appreciate that. It is really subjective, though.
Despite having a fairly large 5.7-inch display, the LG G6 does not feel like a phablet, thanks to the overall small body. You feel like you are just holding a display and the apps in your hand. It is quite remarkable just how small the G6 feels.

There is a fingerprint reader on the rear, and that is my biggest gripe with the LG G6. Having to pick up the phone to unlock it with biometrics is an absolute chore. Sometimes I want to check my phone without being conspicuous -- an impossibility in, say, a business meeting with this device. Buy hey, a poorly placed fingerprint reader is better than none at all, I suppose.
Also on the the rear of the phone, is a weird plastic coating that takes away from the premium feel. At first I thought it was removable, but it is meant to remain. I suppose it protects the phone, but unfortunately, it makes it uglier. There is an open rectangle around the cameras that makes it look like you forgot to peel off the plastic.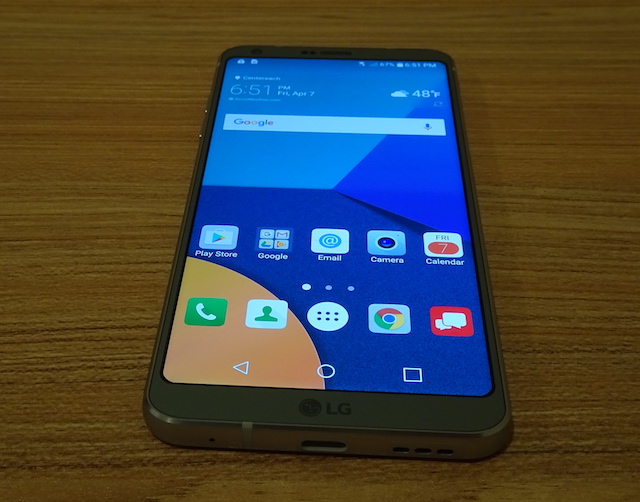 Speaking of the cameras, there are two lenses on the rear, which seems to be the trendy thing nowadays. Photography and video is very important to me, and I am happy to say the LG G6 does not disappoint. Actually, I am quite impressed with the camera results -- images are absolutely brilliant, and I had a great experience in low-light situations. The front camera has a brilliant wide view of taking selfies with many friends.
Video can be shot in 4K, but that is pretty standard nowadays. I prefer 1080p60, which is also an option in the settings. Audio recording is above average, however, making this phone ideal for capturing family moments.
When watching videos, the screen is absolutely jaw-dropping. The 2,880 x 1,440 resolution display is bright and vibrant, making something as simple as watching YouTube content more enjoyable. The integrated speaker on the bottom is just passable, unfortunately. Sure, it gets plenty loud, but there is distortion and a lack of balance -- it can sound tinny. Luckily, it has a 3.5mm headphone jack.
Performance is as to be expected -- excellent -- but let's be honest, all flagships can handle the Android operating system and apps without lag nowadays. Benchmarks aside, you won't see a difference moving between them. Never was there a moment that I thought the G6 would benefit from more horsepower.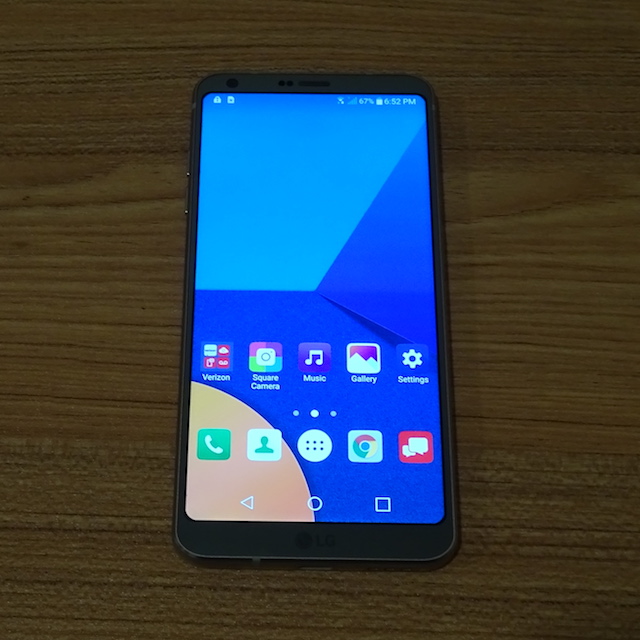 From a durability standpoint, the phone feels solid; the MIL-STD 810G military rating should give you extra confidence for drops. I'd still recommend a case, though. Like other flagships phones, the G6 can be submerged in water -- a max of approximately 5 feet for 30 minutes -- thanks to its IP68 rating. In other words, if you were to fall into a pool with the phone in your pocket, it won't be ruined. I modestly tested this in my bathroom sink and it survived.
Battery life is quite exceptional, getting me well beyond a full day of work. In fact, it far exceeds my iPhone in this regard. There were times where I forgot to charge the G6 overnight, expecting to awake and see a dead battery. Instead, it would have 20 or 30 percent remaining. When you do need to charge it, you can use the USB-C port on the bottom or wirelessly charge it. The LG G6 worked perfectly with a Nokia wireless charging base that I purchased many years ago.
The LG G6 comes with Android 7.0, and thankfully, the company does not do too much tweaking to the overall experience (but it is not stock). Out of the box, the launcher is set up in such a way that all apps are on the home screen -- sort of like iOS. Luckily, you can turn this off in settings, opting instead for a traditional app drawer. You can also install an alternative launcher from the Play Store if you want.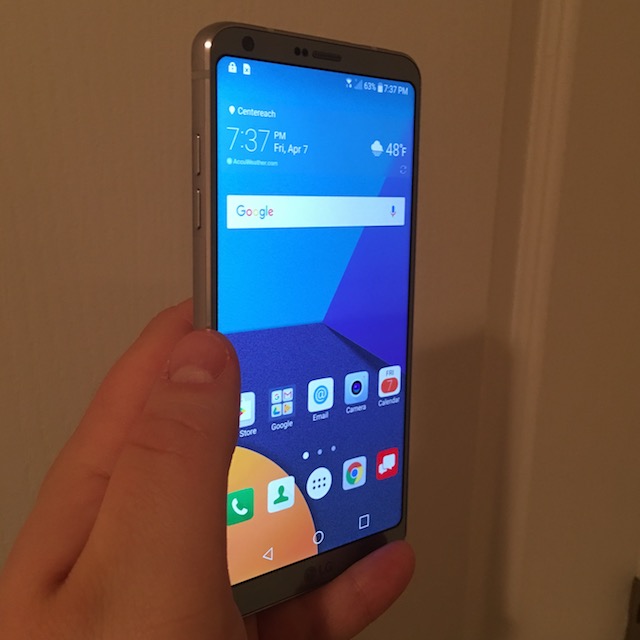 The ultimate question is, should you buy the LG G6 instead of Samsung Galaxy S8? That is a surprisingly tough question. First of all, you can buy the LG G6 today, while the S8 won't be available for weeks. If you need a phone today, the LG G6 is a great choice -- you will be very happy; buy it.
Even if you can wait for the S8, the G6 remains a solid alternative. In particular, if you aren't a fan of Samsung's tweaks, it is quite simple -- buy the LG G6. To sweeten the deal, LG is even giving away a Google Home with purchase, which you can learn more about here.
The LG G6 is a wonderful no-nonsense Android smartphone with above average build quality, camera performance, and battery life. Highly recommended.