O&O ShutUp10 1.5 protects your PC's privacy against new Creator's Update changes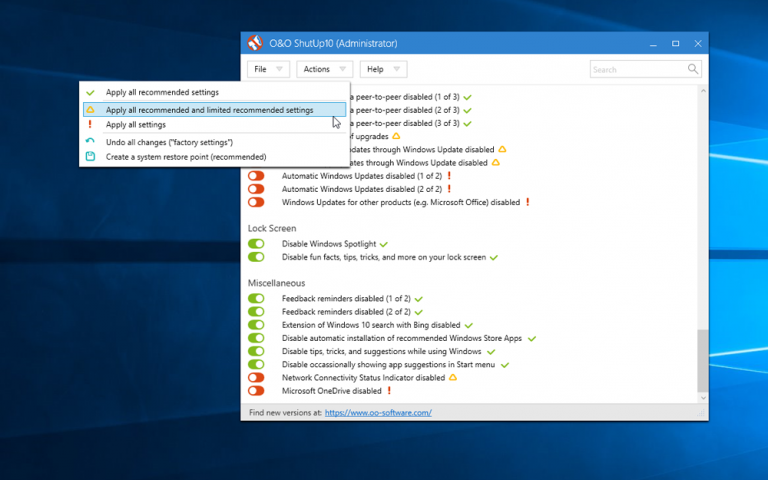 It can sometimes feel like Microsoft is playing a game with us over privacy. It promises to respect people's rights in one sentence, then unleashes a new version of Windows 10 that finds new ways in which to spy on people.
Mindful of this endless dance, O&O Software has released O&O ShutUp 10 1.5, the latest version of its free, portable tool that locks down privacy settings in Windows 10. Version 1.5 focusses on improving privacy in the brand new Creator's Update release.
SEE ALSO: How to download Windows 10 Creators Update and create your own installation USB flash drive or DVD
The tool is incredibly simple to use. Just fire it up and you're presented with a long list of switches, bringing together Microsoft's scattered selection of privacy settings under one roof. You can quickly apply a group of settings based on various criteria, or review each setting individually and flick switches on a case-by-case basis.
It's all very simple to use, and the program remembers what settings you've implemented. When you next run it, you'll be alerted if any previous tweaks have been undone and be invited to review and -- if desired -- restore those changes.
Version 1.5 brings O&O ShutUp 10 bang up to date by implementing new settings that apply to the brand new Creator's Update. These include tracking of app starts, plus policies granting apps access to emails, contacts, tasks, call history and messages.
One particularly interesting setting prevents advertising being delivered by Bluetooth.
The program also improves its portability -- previous versions saved settings in the user Registry, but from version 1.5, these settings are stored in an .ini file that resides in the same directory as the main program itself. This allows users to deploy consistent privacy settings across multiple computers via a USB flash drive or shared folder.
The update signs off with two bug fixes, one that corrects the disabling of driver updates, and another revising the program's 'factory settings', which allows users to undo all changes and revert to the system defaults.
O&O Shutup10 1.5.1389 is a freeware download for PCs running Windows 10 only.