Microsoft's new Surface Laptop runs Windows 10 S and starts at $999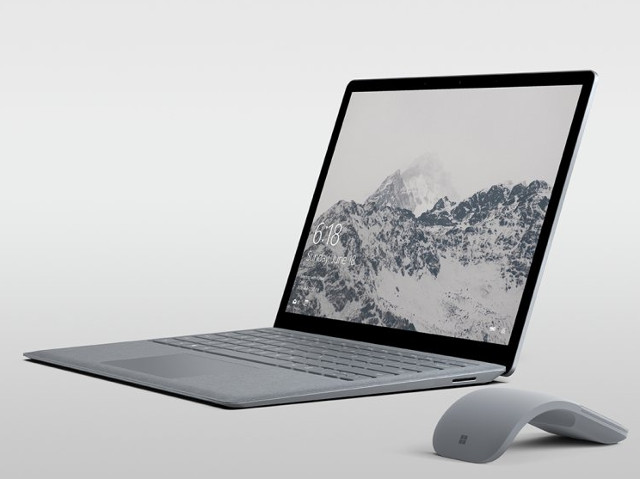 Microsoft is trying to shake things up in the education market with the new Windows 10 S and Surface Laptop. And it's approaching things from two different directions. While the former is a lighter, less complex and easier to manage version of Windows 10 that's meant to compete with Chrome OS, the first Surface laptop, which it's using to showcase this operating system, is not actually a Chromebook competitor.
The Surface Laptop is a device aimed at college students and other prospective buyers looking for a Surface-branded laptop. So it features a high-end build, speedy internals, and, like you would expect, it has the price to match its premium aspirations too, kicking off at $999. In a sense, it's closer to the Apple MacBook Air than your typical Chromebook -- yet it runs a "lesser" version of Windows 10. Interesting, isn't it?
As Microsoft puts it, "We built Surface Laptop to do two things: refresh the classic laptop form factor that our customers, especially college students, have been asking for; and make a Surface that works seamlessly to showcase the best of Windows 10 S." That's not to say that there will not be proper Chromebook rivals running Windows 10 S, because that will happen for sure, but that the Surface Laptop is aimed at a more demanding crowd in the education market that's willing to pay a premium for, well, a premium device.
Here's what you need to know about it. First, there will be four hardware configurations available, two with an Intel Core i5 processor and the other two with a Core i7 chip. The Core i5 line includes a 128GB model with 4GB of RAM and a 256GB model with 8GB of RAM. Both get Intel's HD Graphics 620. The former can be had only in Platinum, while the latter can also be purchased in Burgundy, Cobalt Blue and Graphite Gold.
The Core i7 line features a 256GB model with 8GB of RAM and a 512GB model with 16GB of RAM. Both have Iris Plus Graphics 640, and both can be had in Platinum only.
No matter which one you get, there is a 13.5-inch PixelSense Display, with a resolution of 2,256 by 1,504 and Corning Gorilla Glass 3 on top, that is touch-enabled. Microsoft says that it's "the thinnest LCD touch screen display on any laptop," which is an impressive achievement. The whole device is only 14.47mm (0.57in) at its thickest point, and weighs just 1.25kg (2.76lbs). You'll be able to use a Surface Pen and Surface Dial with the Surface Laptop, if you want.
It has a chiclet keyboard and large touchpad, but also an alcantara-covered keyboard and palm rest. That's an interesting choice, considering that devices in this market typically have plastic keys surrounded by aluminum, which are tried and true in terms of durability and feel.
In terms of battery life, the second Core i5 setup is said to provide up to 14.5 hours of runtime. That's for video playback, and you can expect it to differ for the other models. That is pretty amazing if it turns out to match real-world figures.
As I said, Surface Laptop runs Windows 10 S, but you will be able to upgrade to Windows 10 Pro. "If you need to use an app that isn't in the Windows Store, in just a few clicks can go to the Windows Store and switch to Windows 10 Pro. But you shouldn't. This device, this OS, they're made for each other, and together they offer so much. It's everything you love about Windows, Office, and Surface, made pure and elegant in an unbelievably thin and light package," Microsoft says. There is a limited time offer that gets you a free one-year subscription to Office 365 Personal, which ends on October 15, thrown in.
Microsoft hasn't provided a complete pricing breakdown for the Surface Laptop, but we expect to hear more information about the cost as we're getting closer to its June 15 release. It goes up for pre-order today.