Microsoft considered Surface Laptop with two USB Type-C ports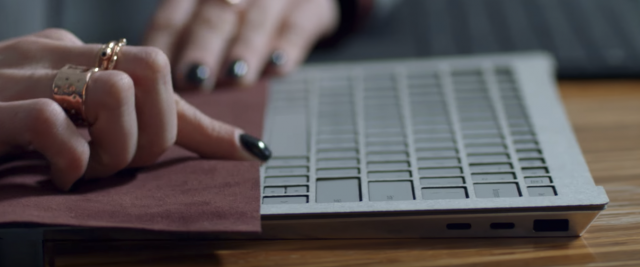 The Surface Laptop sounds like a confusing proposition. It runs Windows 10 S, which is a lesser version of Windows 10 that competes with Chrome OS, yet it kicks off at $999, which is way above what you'd expect to pay for a Chromebook. It has premium aspirations, featuring an attractive build and high-end hardware, yet it does not come with a single USB Type-C port, like other devices in this segment do.
That last part has some people scratching their heads, because Microsoft has managed to fit a full-sized USB port in that slim profile. USB Type-C would have made more sense, but it chose not to include a single port. However, the software giant has, at least, considered that option at some point in the development process.
In a promo video for the Surface Laptop, that you can watch at the end of the story, Microsoft shows a prototype with two USB Type-C ports on the right side of the keyboard, next to what looks to be a full-sized USB port. In the final design, the USB Type-A port is on the left side, while on the right you get the port connector.
If you want USB Type-C, you'll be sorely disappointed by this. It is the latest and greatest port design, after all. But, if you, like most other people, don't have any cutting-edge accessories, you'll probably be relieved to hear that Microsoft has used some common sense here.
USB Type-C is great as a port on a smartphone, but a limiting option on a laptop. If you have a laptop with only USB Type-C ports, you will have to get adaptors, new cables or new accessories to use them. And many people do not want to deal with that, myself included. It is too much hassle, when a full-sized USB port works without going through hoops.
In time, things will change and we will see more and more devices supporting USB Type-C. But, until that happens, Microsoft is right to err on the side of caution with the Surface Laptop design.