ASUS' ZenBook 3 Deluxe is the world's thinnest 14-inch laptop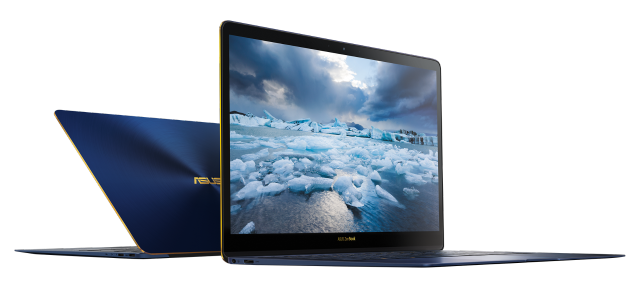 ASUS announced a whole suite of new products today at Computex 2017, and one of the most interesting to debut is the ZenBook 3 Deluxe, which the company says is the thinnest 14-inch laptop in the world.
This is not the first "world's thinnest" product that ASUS unveiled today, as the company also introduced the world's thinnest two-in-one convertible laptop, called the ZenBook Flip S.
The ZenBook Flip S is much thinner though, coming in at 10.9mm as opposed to 12.9mm for the ZenBook 3 Deluxe. But, enough of its other sibling, let's take a closer look at the 14-inch laptop.
The ZenBook 3 Deluxe features an aluminum chassis that employs thin bezels to fit the 14-inch NanoEdge display in what is said to be a 13-inch footprint.
It has a seventh-generation Intel Core i7-7500U processor, up to 16GB of LPDDR3 RAM at 2,133MHz, 1TB PCIe SSD, two USB Type-C ports, and a fingerprint sensor as well. This allows you to use Windows Hello in Windows 10.
The USB Type-C ports are Thunderbolt 3 enabled and offer transfer speeds of up to 40Gbps and support for dual 4K monitors, and charging.
Prices start at $1,199 for the ZenBook 3 Deluxe, but there is no word yet on availability.