Microsoft Modern Keyboard with Fingerprint ID is designed for Windows Hello, coming soon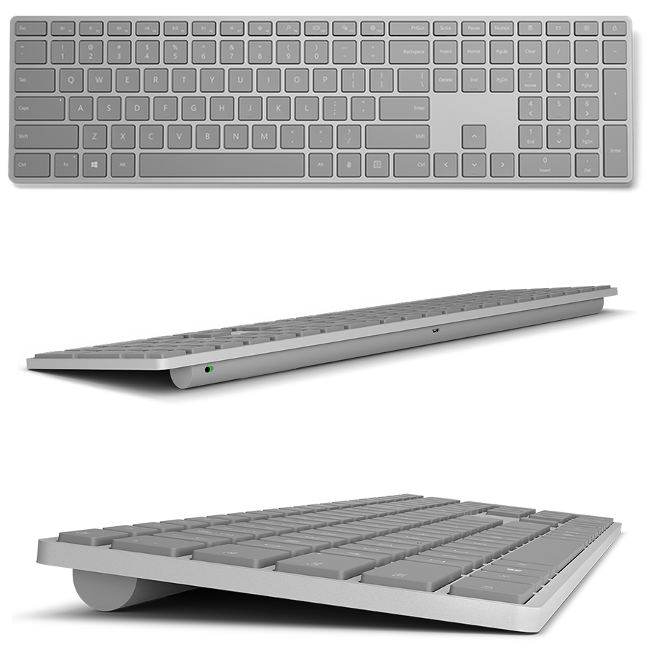 Earlier today, Microsoft quietly unveiled a cool new product. Called "Microsoft Modern Keyboard with Fingerprint ID," it is designed for Windows Hello -- the biometic login feature found in Windows 10. It features Bluetooth 4.0/4.1 and a wireless range of up to 50 feet.
The weird thing about the product is that it has what Microsoft calls a "hidden" fingerprint scanner. I call this odd because the scanner is literally in a key with a fingerprint label on it! In other words, it is hiding in plain sight. It seems Microsoft is proud that the reader itself is "hidden" underneath the key, but since it is labeled as such, I don't know why that matters.
"Our vision was to blend the Fingerprint reader into a keyboard, so it would appear to be any other key. We iterated relentlessly to improve each layer, making sure they came together to create a flawless typing experience that felt like any other key," says Microsoft.
As I was saying, it isn't clear why the user would want the fingerprint reader to look like the other keys -- aesthetics, maybe? It seems like it would be preferable to have it distinct and out of the way, but OK, sure, whatever. If this was Microsoft's vision, so be it!
ALSO READ: Microsoft Surface Laptop and Surface Pro now available -- which Windows 10 PC will you buy?
The Windows-maker also says, "The option of using Microsoft Modern Keyboard with Fingerprint ID as either a wireless/wired interface gives connection options, making it more appealing to commercial audiences. We optimized the Bluetooth paring experience, enabling automatic pairing when you connect the cable at first OOBE."
Having it work both wired and wireless is rather cool. If the battery needs charging, you can use the keyboard while connected to the PC. With that said, the battery can last up to two months between charges. Folks that prefer an always-connected-by-wire experience -- such as yours truly -- can have that too. Its versatility is certainly a benefit.
While this is clearly designed for the newest version of Windows, it can also be used with 8.X and RT. Microsoft specifically calls out Windows 7 as being incompatible. While it is listed to work with iOS, Android, and macOS, the biometric functionality is likely to be Windows 10 only.
If you are interested in buying the Microsoft Modern Keyboard with Fingerprint ID, it can be yours for $130. When you can buy it, however, is a mystery. Microsoft simply says it is "coming soon" with no release date and no ability to pre-order. You can check it out here. In addition, the company will be selling a $50 companion device -- the Microsoft Modern Mouse seen here.