Display live system stats on your taskbar with XMeters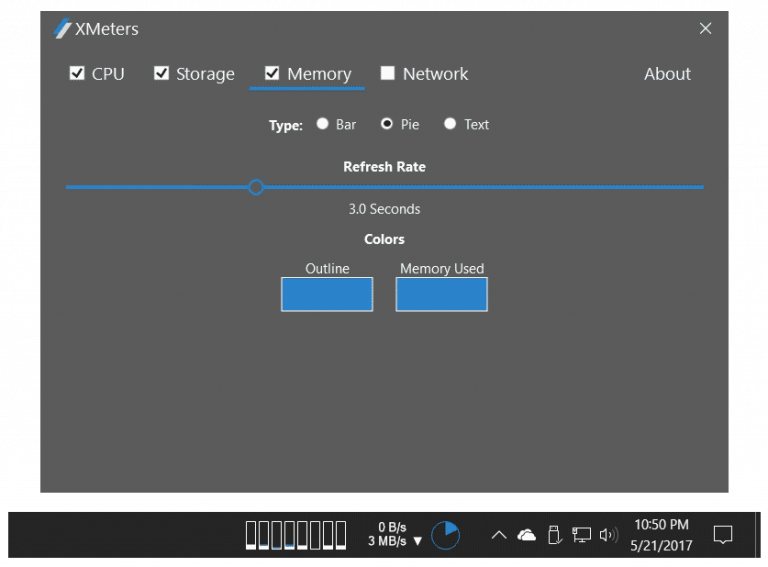 XMeters is a free-for-personal-use system monitor which displays live CPU, RAM, network and drive stats directly on your taskbar. The details include CPU utilization by core, hard drive read and write rates, network upload and download speeds, and free and used RAM.
Right-clicking any of the monitors opens a configuration dialog. You can reorder these items, turn them on or off individually, change their display type (bar, pie or text), set colors and more.
Left-clicking a monitor opens task manager, handy if you need to explore your PC further.
If the meters are distracting or you decide you don't need them for a while, they're easily disabled. XMeters works by installing itself as an Explorer toolbar, which allows you to turn it on or off just like any other: right-click the taskbar, click Toolbars > XMeters.
This integration also brings some issues. You can't easily see how much resources XMeters is using, as it's essentially running as a DLL within an Explorer process. And if the program has bugs, or crashes, it could bring down Explorer. This didn't happen to us, but keep it in mind if you have Explorer issues after installing the program.
XMeters is free for personal use. A $4.99 Professional build extends the package with a fully configurable refresh rate, and is licensed for personal and commercial use.
XMeters is available for Windows 7 and later.