iPhone and iPad users can now add PayPal as a payment option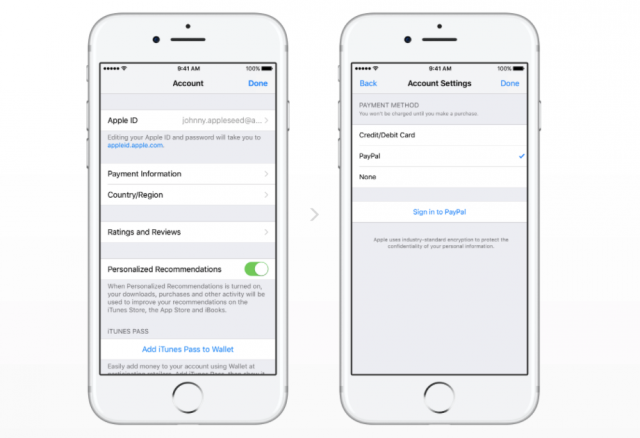 Apple has offered PayPal as a payment option for quite some time now, but support and availability have been limited. That changes, starting today.
The big news comes for iPhone and iPad users, who will be able to add PayPal as a payment option directly from their device. That integration is rolling out now, with Canada and Mexico being the first markets to get it.
PayPal says that it will be available to other countries "soon after," a list which includes the US. As the company explains, iOS users "will be able to pay for App Store, Apple Music, iTunes and iBooks purchases across iPhone, iPad and iPod Touch devices using their PayPal account."
To add PayPal as a payment option, iPhone and iPad users have to head over to Account Settings, select PayPal, and enter their credentials to make their PayPal account available for their Apple ID. This integration ties in with PayPal's One Touch, according to the payments service.
Apple users may recall that PayPal has been available as a payment option directly from iTunes, on Windows and Mac, but not outside of the US. That is also addressed, as that integration will also be available in Australia, Austria, Canada, France, Germany, Israel, Italy, Mexico, the Netherlands, Spain, and the UK.
Using PayPal, users will be able to pay for apps, games, movies, and subscription to services like Apple Music and iCloud. This is available to both existing and new customers.