Acer Chromebook 11 C771 has optional touch screen and up to 13 hours battery life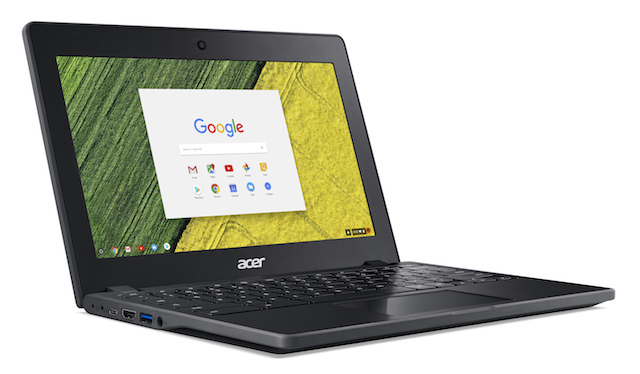 I absolutely love Chromebooks. Well, not for me exactly, but I love suggesting them to other people when appropriate. While they aren't for everybody, they are brilliant when they can meet a user's needs. The underlying Chrome OS operating system is based on Linux and is extremely secure. In fact, it can be argued that Google's laptop operating system is the most secure OS for web browsing. If you are tired of fixing either a friend or family member's Windows 10 PC, and they live in a web browser, get them on a Chromebook and get some of your time -- and sanity -- back.
Today, Acer unveils a new laptop running Chrome OS. The "Chromebook 11 C771," as it is called, is designed primarily for education (where they really shine), plus as thin clients for businesses too. The notebook features an 11.6-inch display with optional touch, and up to 13 hours battery life. Since it is designed primarily for students, and they can be rough on computers, the C771 has military grade (MIL-STD 810G) durability and a spill-resistant keyboard. It can even survive a 4 foot drop.
"The Chromebook 11 C771 has a USB 3.1 Type C for fast data transfers as well as two USB 3.0 ports and one HDMI port. Students can plug in headphones with the 3.5mm combo audio port. Files can be transferred with the device's built-in microSD card reader. Also, students and business customers can stay connected with fast dual-band 2x2 MIMO 802.11ac/a/b/g/n Wi-Fi. The HDR webcam delivers an easy and fun way to connect with HD 1280x720 resolution and 720p audio/video recording. The Chromebook also includes HD audio support, dual built-in stereo speakers and a microphone," says Acer.
This slideshow requires JavaScript.
The manufacturer also says, "The Acer C771 Chromebook has an IPS display with touch screen or non-touch options, so schools can meet their curriculum and budget requirements. The 11.6-inch display has a 1366x768 resolution that ensures clear apps and text as well as vivid images. The hinge design securely holds the display in place, yet also opens up to 180 degrees, so it can lay flat for easier sharing during labs and project time. The Acer Chromebook 11 C771 is slim and portable, measuring only 0.82 inches (21mm) thin and weighs only 2.98 pounds (1.35kg)."
This slideshow requires JavaScript.
The quoted 13 hours of battery life has a caveat -- it is for the non-touch screen model only. If you opt for the touchscreen, you will lose an hour, as it is instead rated for 12 hours. Besides needing to decide if you want a touchscreen, there are three 6th generation Intel processor options -- Celeron, Core i3, and Core i5. Acer lists RAM as being "up to 4GB," meaning there may be a 2GB memory model at some point. In 2017, anything less than 4GB should be avoided entirely.
This slideshow requires JavaScript.
If you are interested in purchasing the Acer Chromebook 11 C771 for your school district or organization, pricing is actually quite reasonable. The Celeron 3855U models will be available later this month with 4GB of RAM and 32GB of storage. The non-touch model (C771) will cost just $280, while the touch model (C771T) is a bit more at $330. Please note, these particular Chromebooks are only being made available in commercial channels, so don't expect to see them in Best Buy.
Acer promises that the more powerful Core i3 and Core i5 models will be available in September, but pricing and configuration options are unknown at this time.