Host a virtual meeting or webinar using CyberLink U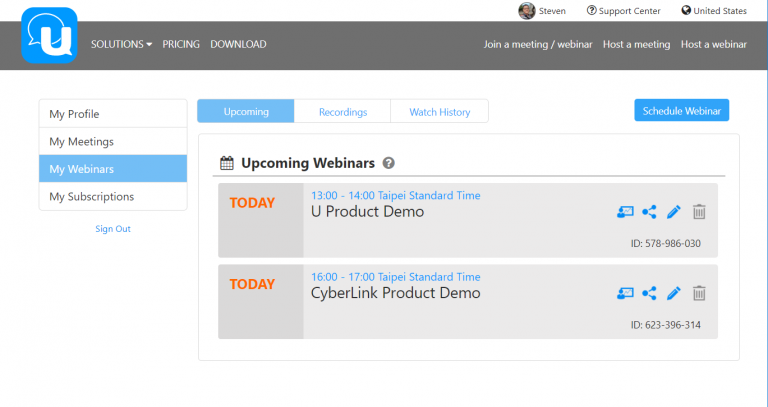 With an ever-rising number employees wanting to work from home or going freelance, how do you bring these team members together? There are plenty of messenger tools aimed at business owners, including those from heavyweights such as Facebook and Microsoft.
Problem is, adopt one of these tools and you might find that they change direction and are aimed towards flirting teenagers rather than business users.
A few years ago we'd use the rather fantastic ICQ to keep in touch with international colleagues before that moved in a completely new direction. At one stage everyone was on ICQ. Skype became the go-to business messaging tool until Microsoft bought the technology and it displayed a promising direction, until recent updates.
CyberLink is seeking to revamp this market with the launch of U, which brings together business messaging, video conference calls and the facility to host a webinar presentation within the same tool.
What is U? Effectively a tool that will enable you to create a team of people who can keep in contact, wherever their location. If one of the team members wants to create an online video meeting, the same tool can be used to chat in a lag-free HD environment where up to 25 people can connect completely free of charge.
If your team is project-based, once your project reaches completion, you may want to show this off to the rest of the company. CyberLink U has a webinar feature which enables you to set up an online presentation where you can invite other members to view and ask live questions, whilst you host your conference.
CyberLink U is a subscription-based service. The Basic subscription is completely free and will enable a small business to host a virtual meeting for up to 25 people, for a maximum 50 minutes per meeting. PRO 50 is $9.95/month and enables up to 50 participants and a 24-hour meeting, where required. PRO 100 is $19.95/month and enables 100 participants. To host a webinar, the Basic plan will enable 25 participants and a 60 minute presentation. Move up to PRO 100 for £29.99/month for 100 participants and an 8 hour presentation and PRO 500 at $99.99/month will enable 500 participants.