Acronis True Image 2018 includes anti-ransomware protection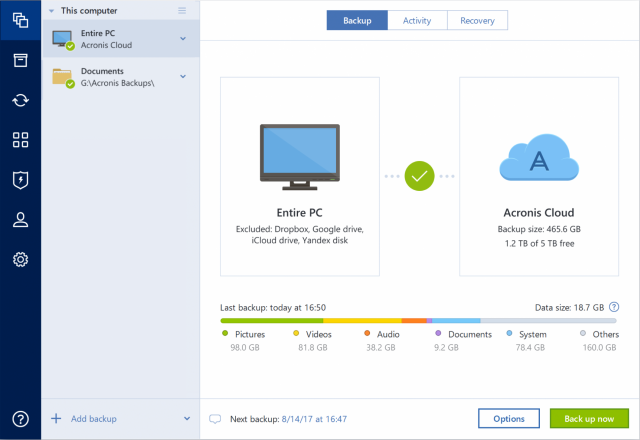 Backing up your files is essential, especially with the rise of ransomware. No business user can afford to be without their important data, even if some are securely stored in the cloud. By backing up your files, if you suffer from any kind of attack or system error, you can simply use your backup tool to restore a previous state.
However, what happens if you use an external drive to backup your data and ransomware tools lock out your entire computer and connected devices? This is where the brand new True Image 2018 will help as it now includes anti-ransomware protection.
Why would you need your backup tool to protect against ransomware? Simple, really. Backup data is just a collection of files and they can easily be encrypted in the same way as files located on your computer and, once encrypted, you'd have to pay the ransom fee to access them.
With True Image 2018, the new anti-ransomware protection will safeguard your backups from outside intrusion, without your intervention.
What else is new? There's a new graphic statistical analysis which enables you to quickly see how much data is backed up and the type of data -- much like Apple has supplied via iCloud backup for years.
The new Conversion to Virtual Machine option could prove useful for business users who want access to their desktop on the road. Simply take a system backup and then convert it to a virtual machine. Grab VMware Workstation for your laptop and you have full access to your desktop computer, plus all the backed up files.
You also get a laptop battery mode, so True Image doesn't sit in the background backing up data, plus faster incremental backups so you can backup more swiftly.
There are trial versions of Acronis True Image 2018 available for Windows and Mac computers, right now. The Standard version can be purchased for $49.99 without cloud storage. Upgrades from previous versions start at $29.99.