Logitech unveils elegant MX Sound Bluetooth desktop speakers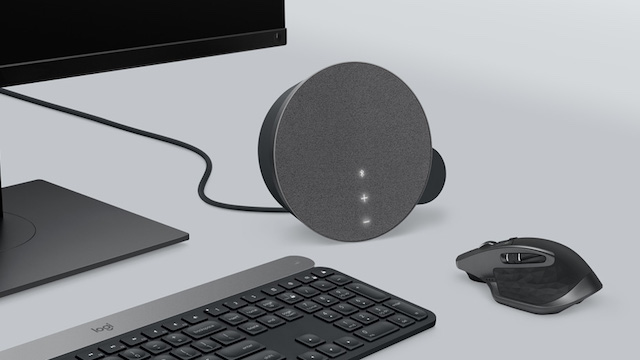 Earlier today, Logitech announced a unique new keyboard called "Craft." It is designed to work in harmony with the company's excellent Logitech MX Master 2S mouse, but, of course, you can use it with any pointing device that you choose. Logitech is hoping to dominate your desk with these products not only because they work exceptionally well, but also because they will share an elegance and design style that will transform your work space into something beautiful.
Of course, a mouse and keyboard alone do not complete an elegant desktop experience, so the company is also introducing a new 2.0 desktop speaker system. Called MX Sound, the speakers don't only connect with a 3.5mm audio port, but they feature Bluetooth too. Actually, you can pair two Bluetooth devices at once. There is even a headphone jack on the rear. To lend to the overall beautiful design, there is no branding on the front of the speakers, allowing them to blend into your desk. The controls on the front even have proximity detection, so they will only light up when your hand gets close.
"Featuring motion-activated backlit controls, high-end drivers and rear-facing port tubes, MX Sound allows you to pair up to two Bluetooth devices and/or use the 3.5 mm wired connection. With the Logitech Easy-Switch technology you can seamlessly switch between all your connected devices -- just pause one and play another. It's that easy," says Logitech.
What I find particularly cool, is that you can play audio from both Bluetooth and the hardwired connection simultaneously. I am sure you are wondering why you would want that -- obviously it would be maddening to have two songs play over each other. Fair point.
Where this can be useful, however, is with smartphone notifications. If you are listening to music from your computer, you can optionally hear notifications from your iPhone or Android smartphone through the speakers so you can be alerted of important things. For times when you don't want notifications to interrupt your tunes, you can simply disconnect. You are empowered to use such a feature.
This slideshow requires JavaScript.
Some people will like that they are 2.0 and not 2.1, meaning there is no included subwoofer. Yeah, a subwoofer will provide enhanced bass, but that has the side effect of potentially annoying other people in your home. A 2.0 system means there is less clutter too -- no subwoofer under your desk or on the floor. I was treated to a demonstration of the MX Sound Bluetooth desktop speakers, and I am happy to say I found the sound to be well-balanced -- there were sufficient lows despite no sub.
If you want to pick up the elegant Logitech MX Sound Bluetooth desktop speakers, they will be available late next month for a reasonable $99.99.