Microsoft takes the wraps off the next generation of Windows 10 S devices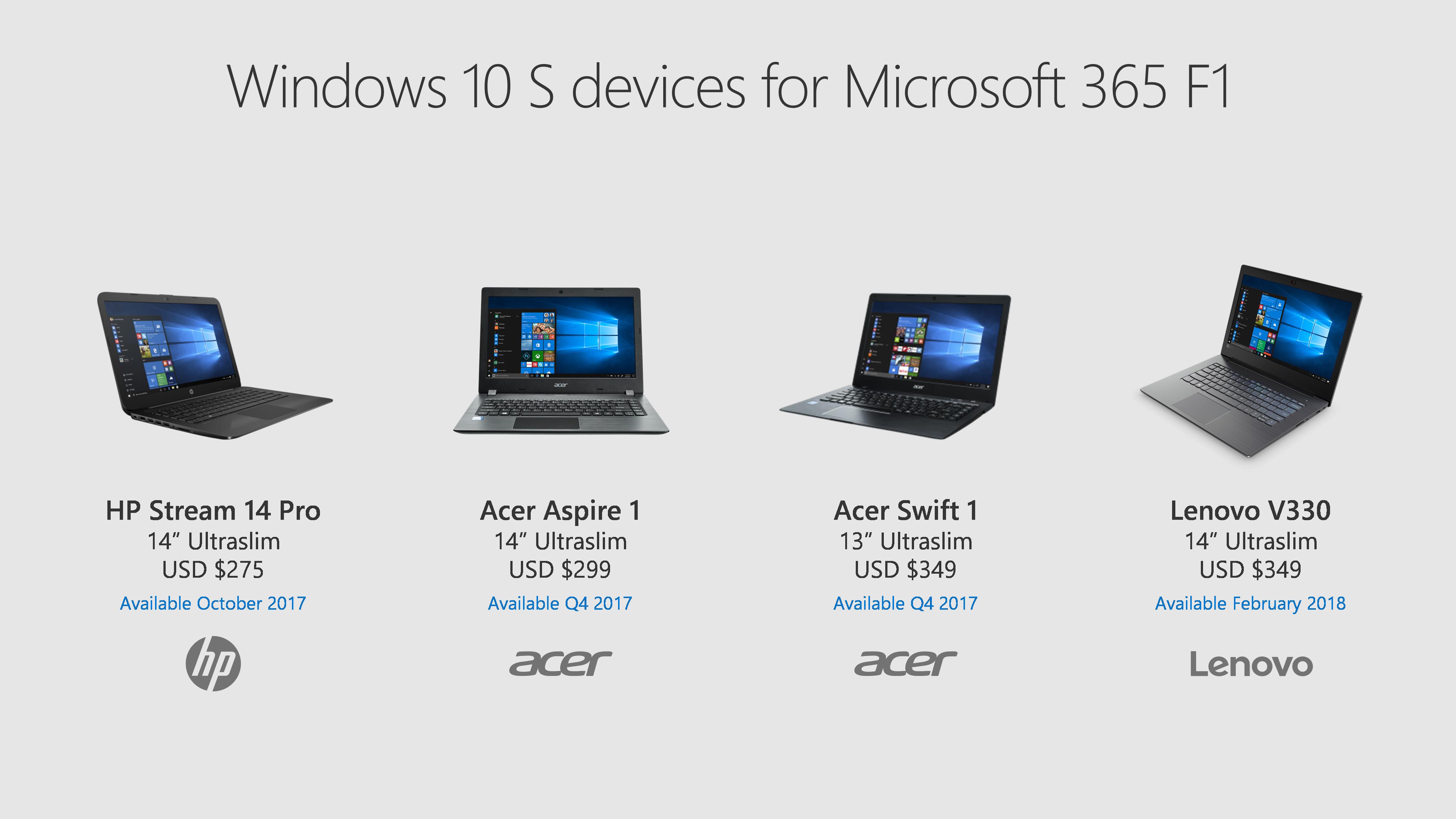 Ignite, Microsoft's annual IT event, is currently underway in Orlando, Florida, and the software giant today revealed a range of new Windows 10 S devices from the likes of HP, Lenovo and Acer.
Windows 10 S is a cut down version of Windows 10 that only runs software from the Microsoft Store. It's also faster and more secure, and when it launched it was aimed primarily at the education market -- a clear rival for devices running Google's Chrome OS. Microsoft is now looking to expand Windows 10 S into other markets.
At Ignite, Microsoft announced the first Windows 10 S devices for Firstline Workers -- the two billion people who "serve as the first point of contact between an organization and its customers or products."
The devices from Microsoft OEM partners HP, Lenovo, Acer, and Fujitsu are priced from $275, with availability starting from as soon as next month.
Microsoft lists the following advantages of Windows 10 S for Firstline Workers:
Simple to use: Windows 10 S delivers a familiar Windows 10 experience so Firstline Workers can get productive right away. It is designed for performance, start-ups are quick and built to stay that way so that productivity never slows down, even on entry-level devices. It offers more seamless integration with hosted VMs for remote desktop and apps for firstline worker scenarios. And it is fully integrated with OneDrive, empowering Firstline Workers to work from anywhere.
Streamlined for security: Designed with Firstline Workers in mind, Windows 10 S has the goal of preventing the most common cyber attacks like ransomware and exploits. Applications built on the Universal Windows Platform or Centennial are delivered via the Windows Store ensuring they have been verified for security and integrity. And with Microsoft Edge, Firstline Workers are protected against phishing attacks and malicious software.
Easy to manage: Windows 10 S was designed with Modern IT in mind, including cloud-based identity and management with Azure Active Directory and Microsoft Intune. Together with Windows Update for Business, organizations can manage and update Windows 10 S devices using the power and convenience of the cloud.
Bernardo Caldas, GM, Commercial Marketing in Windows, also reveals future features of the S variant: "Another important scenario for many businesses is the ability to customize and lock down devices to specific tasks or experiences for Firstline Workers and kiosks. In the Windows 10 Fall Creators Update, organizations can quickly setup and maintain locked down single purpose devices with improved tools in Windows Assigned Access. In future updates, we are also building additional lockdown, customization, and anti-theft capabilities."