Opera 49 adds editable elements to its screen capture tool, rolls out VR headset support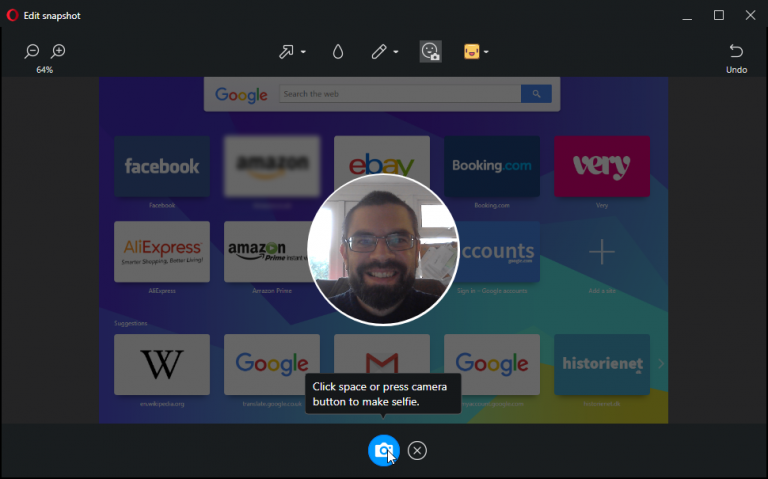 Opera Software has unveiled Opera 49, the latest version of its Chromium-powered browser for Windows, Mac and Linux.
Opera 49's headline new feature is a major update to its new snapshot tool, with editing features, a selfie mode and support for emoji. Elsewhere, the VR headset support previewed in the Developer release has also been included, along with a new 'easy setup' button offering convenient access to key settings.
Opera's headline update sees its recently introduced Snapshot screen-capture tool gain several major features, chief of which are a selection of new annotation tools.
Once captured, users will see a row of tools appear above the snapshot -- these include arrow pointers, blur, pencil, selfie mode (for adding a quick snapshot from your webcam) and a selection of emoji, all of which can be moved and resized as required.
Opera 49 also adds support for OpenVR headsets including Oculus Rift and HTC Vive. It allows users to enjoy both virtual-reality and standard 2D video from sites including YouTube, Facebook and Vimeo -- a 'Watch in VR' button will appear when a compatible headset is detected.
Elsewhere, Opera adds a new easy setup tool -- look for the button in the top-right hand corner of the Speed Dial -- that provides a convenient pop-up menu with access to key settings. Settings cover switching theme, wallpaper and appearance, plus toggling the Ad Blocker feature, setting Downloads location and clearing or importing browser data.
Other improvements see the pop-up search tool introduced in version 48 gain support for 37 currencies to add to its existing support for 32 units of measurement and 14 time zones. A fourth social messaging tool -- VK -- has also been integrated alongside Facebook Messenger, WhatsApp and Telegram.
Users also gain the ability to rearrange browser extension icons that appear to the right of the Address Bar simply through drag and drop.
Private browsing mode has been tweaked so the window more closely resembles the regular Opera theme, albeit with a dark address bar. And more tweaks have been applied to sharpen Opera's appearance on Retina and other HiDPI screens.
Opera 49.0 is available now as a freeware download for Windows, Mac and 64-bit Linux users. Existing users can update from within Opera itself -- simply open the Opera menu and choose About Opera to do so.