OnePlus 5T available in Star Wars: The Last Jedi limited edition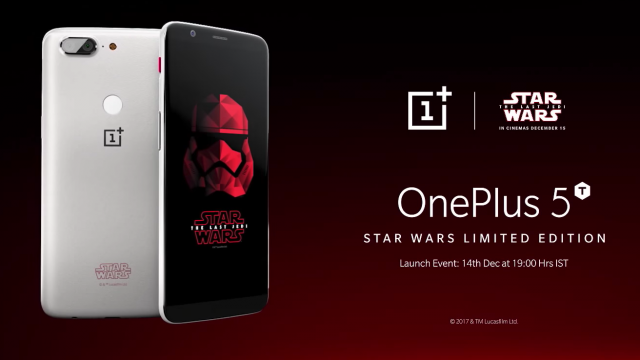 Every now and then OnePlus introduces a limited edition of its flagship killer. They're usually nicer than the original, but not quite close to collector's item status in my opinion. The latest one might be different.
Why? Because the new one, which is based on the awesome OnePlus 5T, gets Star Wars branding. The limited edition arrives in anticipation of The Last Jedi's debut in movie theaters next week.
OnePlus has not revealed much information about this new special edition, but it looks like it will be exclusive to Amazon in India. It will be "launched" on December 14 in the country. It's not exactly clear how many units will be available, but it seems like prospective buyers will have to purchase a ticket for it first.
Also, there is no word on how much this will cost either. Knowing OnePlus, it will most likely be based on the OnePlus 5T with 8GB of RAM and 128GB of storage, which is the best version that you can get today, so the price should be at least $549.
The OnePlus 5T is a fantastic smartphone and the best flagship killer that we have seen so far. It comes with top-end specs, like an 18:9 display, high-end processor and dual camera, and premium build.