Toshiba unveils MN06ACA10T 10TB NAS hard disk drive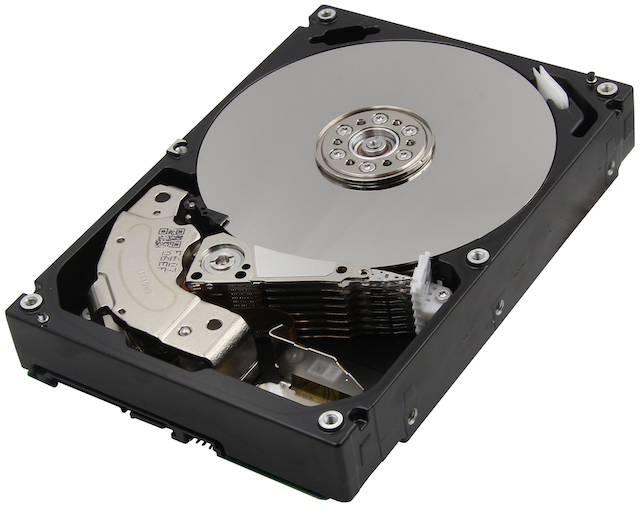 Not all hard drives are created equally. When you are in the market for a storage drive, there are many things to consider. Most importantly is brand -- if you are storing important data, you want a product from a company with a good reputation. Next, you want to target the capacity that meets your needs and fits your budget. Obviously the more capacity the better, but there is no point in buying much more than you need. In other words, if you only need to store 1TB of data, an 8TB drive would be a foolish buy.
Another thing to consider when buying a hard drive is reliability. Some drives are rated for more use than others, with NAS drives often topping that rating. Why? These drives are quite literally designed for network attached storage where they could be in constant use -- including serving as a personal "cloud." Today, Toshiba unveils a beautiful new SATA 3.3 NAS drive with a massive 10TB capacity and impressive 256MB cache/buffer. Called "MN06ACA10T," it is designed for 24/7 usage and workload transfer-rated for 180TB per year.
"The MN06ACA10T features a maximum sustained transfer rate of 237 MiB/s and is designed for 300,000 load/unload cycle robustness. The drive provides a SATA 6 Gbit/s interface and 7,200 rpm access performance. The MN06ACA10T supports Advanced Format (512e) technology for compatibility with legacy applications and operating environments and are compatible with popular third party NAS appliances," says Toshiba.
ALSO READ: Toshiba unveils 2TB XG5-P NVMe SSD
Scott Wright, Director of HDD Product Marketing at Toshiba America Electronic Components, Inc says, "Our new 10TB MN06 Series provides excellent NAS-class performance and durability. Our exclusive conventional mechanics delivers real value to work-groups and cloud storage architects who utilize established network-attached storage technologies. The MN06ACA10T 10TB includes RV compensation technology for optimal performance in multi-drive NAS enclosures and is designed for 24/7 operation."
While not the fastest hard drive, nor the drive with the largest capacity, neither of those things are as important as the reliability and possible longevity. With that said, 10TB with 237 MiB/s sustained transfer rate is nothing to sneeze at. Quite frankly, this is probably overkill for many home users, although I am sure there are some that have the need to remotely access 10TB of data. Where it should truly shine, however, is for small businesses.
When you can buy the 3.5-inch drive -- and for how much -- is a mystery for now. Toshiba is currently supplying samples to some manufacturers and organizations, but consumer pricing and availability is not yet known. With that said, I would expect it to hit stores early in Q1 2018.