Satechi unveils Aluminum Type-C Clamp Hub Pro for 2017 iMac Pro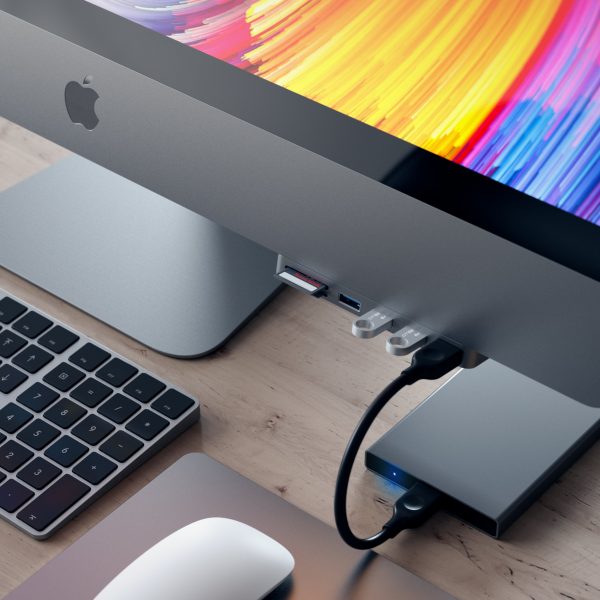 Today is a huge day for Apple, as its much-anticipated iMac Pro finally goes on sale. While it isn't a revolutionary product, the computer should placate vocal Mac users that have been clamoring for more power.
If you do decide to spend $5,000 or more on the iMac Pro (yes, that really is the starting price) you may not mind spending additional money on accessories for it. Today, Satechi unveils a new product designed for the iMac Pro, but also the standard iMac models too. Called "Aluminum Type-C Clamp Hub," it attaches to the computer and delivers front-facing USB ports (Type-C and Type-A), plus both an SD and micro SD card reader. Believe it or not, this is necessary as Apple puts all of the computer's ports on the rear -- not a great design.
"The hub adds functionality to the iMac with a data only USB-C port, three USB 3.0 ports with up to 5Gb/s for fast and secure data transfer, and a Micro/SD card reader, all through a single USB-C connection, for convenient access to a user's most-loved ports and devices," says Satechi.

The company further says, "The Aluminum Type-C Clamp Hub is easy and simple to set up. Plug into one of the iMac's Thunderbolt 3 ports and use the adjustable knob to fasten the hub to the bottom of your desktop computer. With no additional drivers or installation needed, it extends ports to the front of the iMac, keeping everything within reach and providing convenient access to peripheral devices. The versatile hub frees up valuable desk space while its sleek, brushed aluminum finish complements Apple accessories."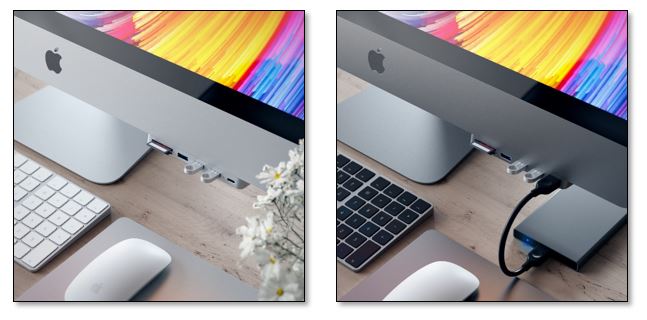 How much does this convenient hub cost? You can buy it for a fairly reasonable $49.99 here. While that may seem like a high price, Satechi is known for making quality products -- you get what you pay for. It is available in both silver and space gray -- the former being ideal for the normal iMac, and the latter matching the all-new iMac Pro.