Synology announces DiskStation DS218 and FlashStation FS1018 NAS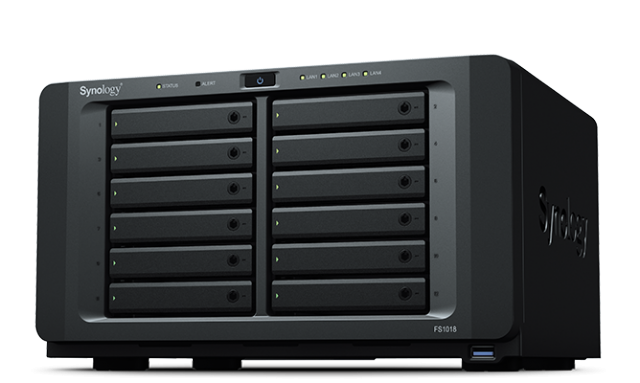 Synology has been slowly refreshing its NAS lineup in the past couple months, and now it is adding two more models to the range. The star of the show is the FlashStation FS1018, a high-end NAS that, as its name suggests, is designed with all-flash storage in mind. The DiskStation DS218, meanwhile, is the new two bay, mid-range NAS for consumers.
The FS1018 is an impressive piece of kit. It can house up to 12 SSDs (SATA), has 8GB of ECC (error-correcting code) RAM as standard, a dual-core, 64-bit Intel processor, a 10Gb wired connection and support for the Btrfs file system, just to name some of the highlights.
It, like other NAS devices in Synology's range, can be upgraded. You can bump the RAM up to 32GB (the 8GB of RAM comes as a removable module, being installed in one of the two slots on the board). There is an expansion unit which lets you have up to 36 drives. And, if you want, there is also an M.2 SSD adapter to boost cache performance.
The FS1018 is capable of running Synology's new virtualization software for DSM, called Virtual Machine Manager. It lets you install multiple virtual machines, running Windows, Linux or Virtual DSM. The software was just deemed ready for prime time, after a period of beta testing, and is available now.
The FS1018 is on sale now, having an MSRP of $1,599. It ships without the SSD drives, so you will have to supply your own.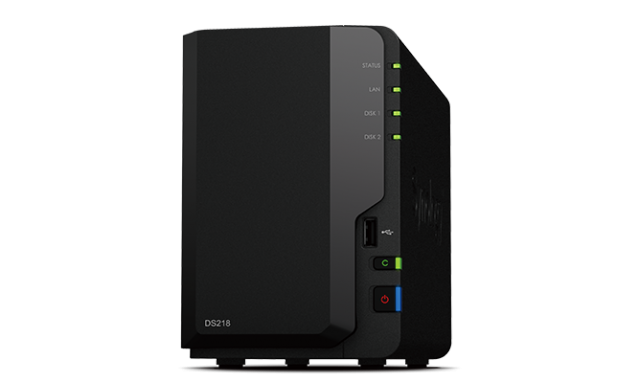 The other new kid on the block, the DS218, slots between the DS218j and the DS218+ in the two-bay consumer range. I am a big fan of the DS218+, being an excellent performer (hit the link for our review). The DS218 is similar in design, though it sports slightly different specifications.
The DS218 features a quad-core Realtek CPU, 2GB of RAM, support for up to 24TB of storage (using 3.5-inch and 2.5-inch drives -- HDD and SSD options can be used), 4K video transcoding, two USB 3.0 ports and one USB 2.0 port, and a Gigabit LAN connection. Performance is quoted at 112MB/s for sequential reads and writes.
The DS218 is also available now, priced at $249.99 on Amazon. Again, it comes without drives, so you will have to supply your own.