Western Digital My Book Duo 20TB USB-C external RAID hard disk drive [Review]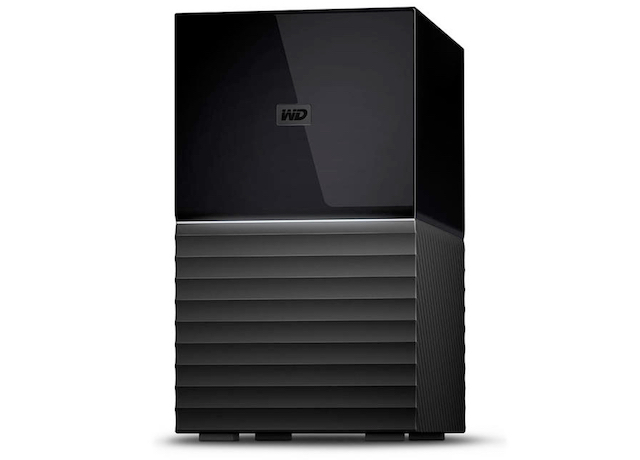 Nowadays, more and more consumers are embracing the cloud for data storage and backup. This is not a mistake -- it is smart to store your files off premises. With that said, it is even smarter to also store the data locally for redundancy purposes. For instance, with local storage, if your internet connection is down, you can still access your files. With the cloud, if there is a disaster -- such as a house fire -- your data can be retrieved even if your local storage drives are destroyed. In other words, using the cloud and local storage together gives you the best of both worlds.
Picking local storage can be tricky, however. For cost purposes, a mechanical hard disk drive is still your best bet for backup. If you have a desktop, you can probably buy an internal drive, but laptop users aren't often as lucky. If you own a notebook, you most likely need to opt for an external USB drive. With USB 3.0 being fast enough for connecting a mechanical hard drive, even desktop users should probably consider it for convenience. I have been testing a very intriguing new external USB-C HDD with my MacBook Pro (running High Sierra). What makes the drive so special? It features 20TB of storage!
Specs (from manufacturer)
USB 3.1 Gen 1 (USB 3.0)
Massive capacity storage with auto and system backup
RAID-0 ready out of the box
RAID optimized WD Red drives
2x USB 3.0 Type-A hub ports
256-bit AES hardware encryption and password protection
3-year limited warranty
Impressions
Taking the drive out of the box, I was immediately impressed with the heft and build quality. Rather than simply looking like a functional piece of technology, it instead appears monolithic and artistic -- an intriguing black box. The top half is shiny, and the bottom is matte, which creates a beautiful contrast.
This 20TB drive uses USB-C for connectivity, but it ships with two cables -- USB-C to USB-C and USB-C to USB-A. In other words, even if your computer doesn't have a USB-C port, you can still use the drive. It is not powered by that USB-C port, however; it has a power supply that must be connected to the wall.
What is particularly cool, is that it also serves as a two-port USB-A hub. Since my MacBook Pro only has USB-C, this drive gives me functionality I didn't have before -- I can easily connect USB-A devices, such as mice, keyboards, or flash drives. It's a nice touch.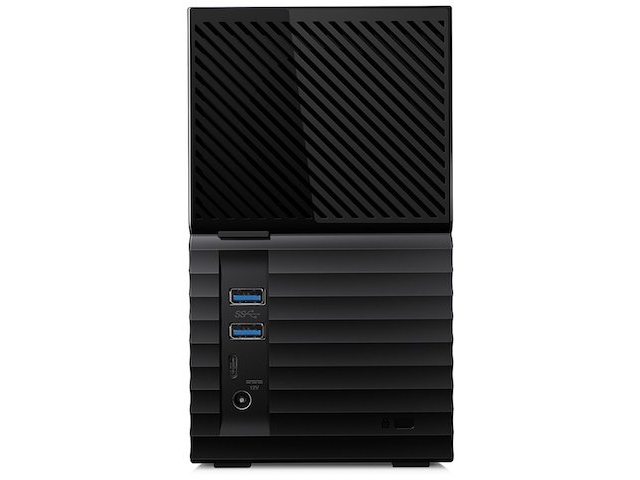 While I am referring to this as a 20TB drive, it actually isn't. Technically, it is two 3.5-inch 10TB drives serving as 20TB thanks to RAID 0, meaning your computer will "see" the two drives as one. This mode will also give you the best performance. The downside to this type of RAID configuration is if one drive fails, the data cross both is lost. If you truly have a need for 20TB across one array, however, this risk may be worth it to you.
Speaking of the two drives that are packed inside, they are high-end WD Red drives, which are known for reliability. These Red drives are designed for network attached storage, so they are tested much more rigorously than a typical desktop drive. Western Digital is clearly aiming to delight in-the-know consumers with this storage product.
If 20TB of storage is overkill for you, RAID 1 would be a better option. This also makes the computer see the two drives as one, but only 10TB. You see, the data is mirrored between the two drives, meaning if one fails, the data is safe on the other. This is my preference, as I really don't need 20TB of storage, and I value redundancy and data safety over anything else.
There is a third option that might be beneficial for some use cases -- JBOD mode. This makes the two drives show separately. They operate independently with no data mirroring. You just get two 10TB drive options -- good if you are looking to keep data separate.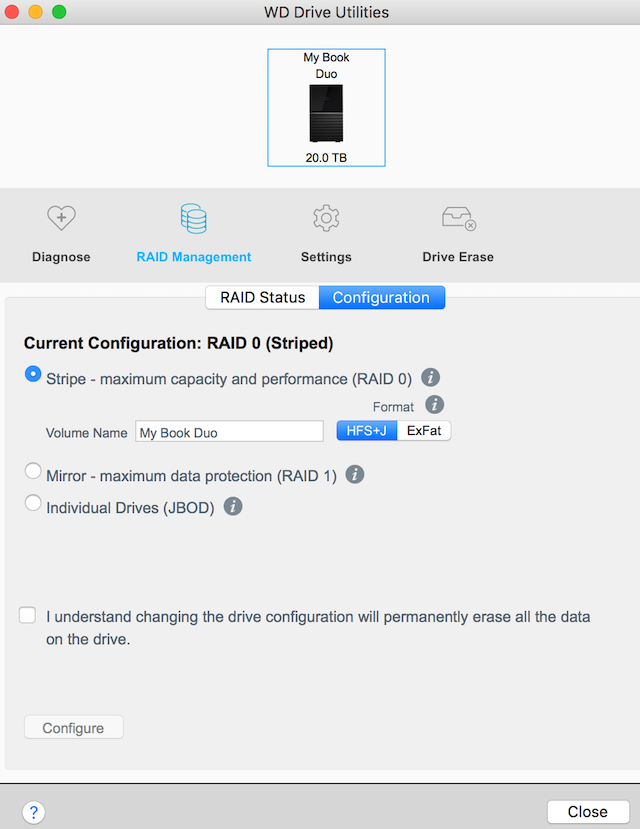 Of course, I tested all three options with great success. The included WD Utilities app is very easy to use, making configuring and formatting incredibly easy. By hovering over the little "i" icons as seen above, the user can get understandable descriptions -- you don't need to be an expert to configure RAID here.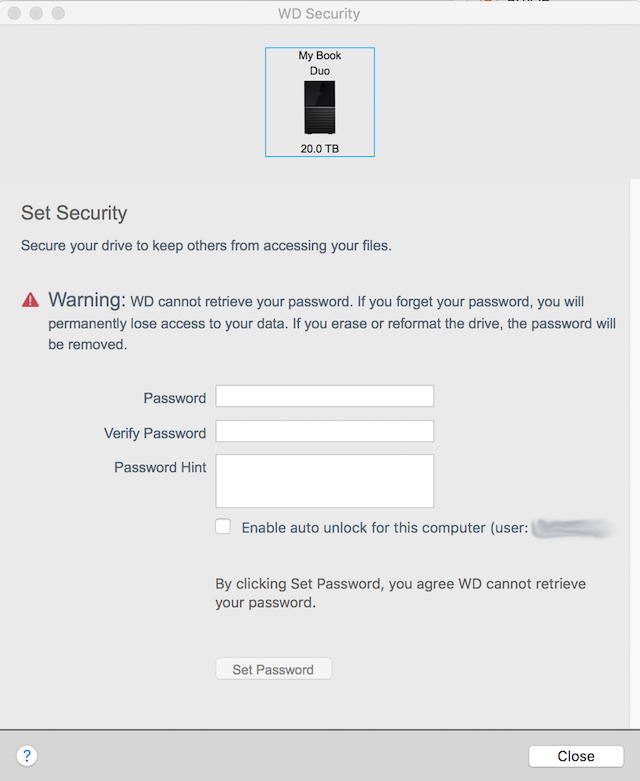 The WD Security app makes encrypting the drive with a password quite simple too. It is very straight-forward and I appreciate the in-your-face warning message -- consumers will have no grounds for complaint if they lose their password and can't access their data as a result.
You can see speed tests below using all three RAID options using HFS+J formatting. Please click on them to enlarge. As you can see, RAID-0 doesn't just give the convenience of 20TB as a single usable space, but there is a significant performance boost too. Again, if speed is not your main focus, RAID-1 is the better option for the protection of data. While not as fast as an SSD, for backup and storage, the results are perfectly acceptable.
The big question is, do I recommend this drive? The answer is, absolutely. If you truly need this much storage capacity, you simply cannot go wrong by choosing Western Digital's legendary quality. This drive should prove quite reliable and be a mainstay on your desk for many years. It is impressively quiet under heavy operation too.
For the money (currently $799 on Amazon), you are getting two high-quality 10TB WD Red drives packed into an elegant USB-C enclosure with an integrated two-port USB hub. The included software is easy to use, but feature-full as well. It is an exceptional product that should delight you in every way. Buy it!