G.SKILL Ripjaws 64GB DDR4 SO-DIMM RAM Kit is world's fastest at 3,466MHz CL17-17-17-37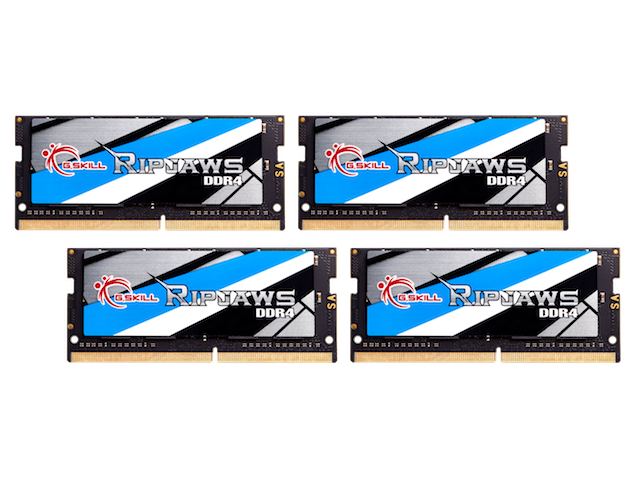 There have been many RAM kits being touted as the world's fastest lately. It almost feels like an "arms race" where memory-makers are looking to outdo each other. For instance, both G.SKILL and Corsair recently claimed to have the fastest 32GB DDR4 SO-DIMM kit in the world. While both kits shared the same clock speed, the former beat the latter thanks to lower CAS latency.
Today, G.SKILL continues to brag about being the world's fastest, but this time, it is regarding its all-new 64GB DDR4 SO-DIMM kit. The 4x16GB kit runs at an impressive 3,466MHz with CL17-17-17-37 timings using 1.35V. Like the aforementioned 32GB SO-DIMM kit, these sticks are not designed for typical all-in-one computers or laptops, but instead, some desktops using the Intel X299 chipset.
"The need of faster and larger memory kits continue to rise as modern day workloads slowly increases in both capacity and weight of the workload. G.SKILL prioritizes to deliver maximum memory performance across all memory capacities; by using 16GB modules, high end machines and workstation PCs can now fit into a SSF size motherboards," says G.SKILL.
ALSO READ: Western Digital My Book Duo 20TB USB-C external RAID hard disk drive [Review]
The popular RAM-maker further says, "Achievable only with rigorously hand-selected Samsung B-die DDR4 ICcomponents, Ripjaws DDR4 SO-DIMM memory modules takes overclocking to new heights of system memory performance on small form factor (SSF) PCs. This new ultra-capacity high performance G.SKILL Ripjaws DDR4 SO-DIMM memory kit is equipped with the latest Intel XMP 2.0 technology for easy one-click memory overclocking, and will be available from authorized G.SKILL distribution partners in 2018 Q1."
You can see screenshots of the RAM running stably at the claimed speeds and timings below. Just click the images to enlarge.
Unfortunately, pricing is unknown at this time, and we do not have an availability date beyond the first few months of next year. We should know more in the not-so-distant future. If you are an interested buyer, be sure to keep an eye on popular retailers like Newegg and Amazon.