Opera 50 unveils a host of new and improved features, including anti-bitcoin mining protection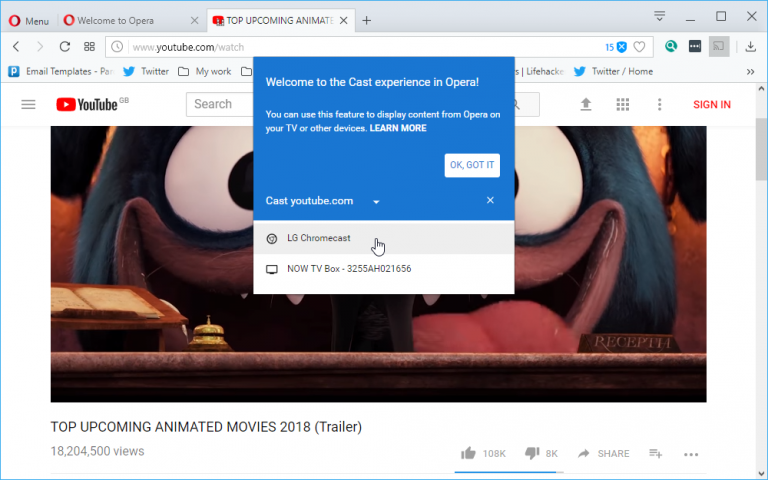 Opera Software has released Opera 50.0, the latest version of its Chromium-based browser for Windows, Mac and Linux.
As befitting such a landmark release, Opera 50 is packed full of new features. Chief among these is the addition of an anti-Bitcoin mining tool, but there's also support for both Chromecast and Oculus Rift VR headsets, better protection for browsing sessions after crashes, and a major upgrade to its VPN service.
Bitcoin mining involves leaving hidden scripts on web pages that utilizes user PCs to mine for Bitcoins on behalf of others. Symptoms can include sudden spikes in CPU and temperature, as well as rapidly depleting battery life.
These scripts can continue to run even after the user leaves the website in question and it's estimated 500 million people have been affected worldwide.
Opera 50 introduces a new element into its ad-blocker tool that targets -- and eliminates -- cryptocurrency mining scripts. At the same time, the browser also adds four cryptocurrencies to its currency converter tool, including -- naturally -- Bitcoin.
Opera 50 also introduces support for Chromecast, allowing users to fling video from supported sites directly to their TV via a Chromecast device. The feature is disabled by default -- switch it on via Settings or Preferences under Browser > User interface.
As with Chrome, Opera allows users to cast videos, individual browser tabs or even the full computer display.
Opera 49 unveiled support for VR content for OpenVR headsets, and version 50 extends this further by adding support for Oculus Rift.
Additional VR features added included full software decoding and automatic format detection in the VR player as well as an Exit button.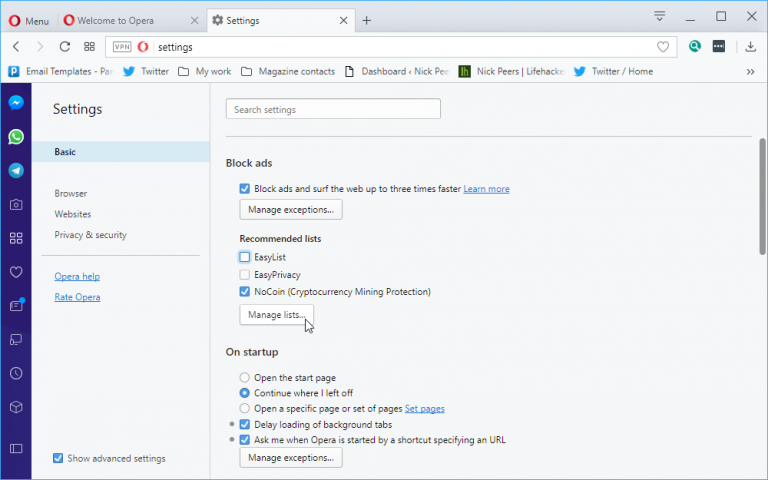 VPN improvements
The VPN service has been upgraded for the first time since its introduction around 18 months ago. Hosting is now done on Opera's own data centers as opposed to SurfEasy LLC. These data centers already host services such as the page compression features for Opera Mini. The feature remains log-less and free.
VPN locations have also changed from countries to regions such as Europe, Americas and Asia -- this will revert back to specific locations in a future update.
The VPN service now automatically bypasses the VPN when using native search engines to ensure local results are preserved -- they remain secured by SSL but the local IP is made visible to the search engines. To avoid this, use the VPN in conjunction with a private browsing window.
Other new features include the ability to save web pages as PDF files via the Opera or File menu. PDF files are smaller than PNG files and also contain editable text.
The tab context menu has been reorganized with favorite options such as reopening last closed tab or window moved to the bottom of the list for easier access.
Opera's unit converter also gains improvements -- a new millimeters to inches conversion tool is joined by support for dimension conversion in web pages (simply highlight the dimensions in question).
One major annoyance -- Opera's ability to lose all pages after a crash -- has been resolved by saving the current browser session (minus the problematic tab) so it's restored after Opera has been reloaded.
Finally, Mac users gain smoother video performance, with up to 25 percent less CPU usage when playing high-resolution video.
Opera 50.0 is available now as a freeware download for Windows, Mac and 64-bit Linux users. Existing users can update from within Opera itself -- simply open the Opera menu and choose About Opera to do so.