Giveaway: Win a limited edition Air Jordan III Xbox One X from Microsoft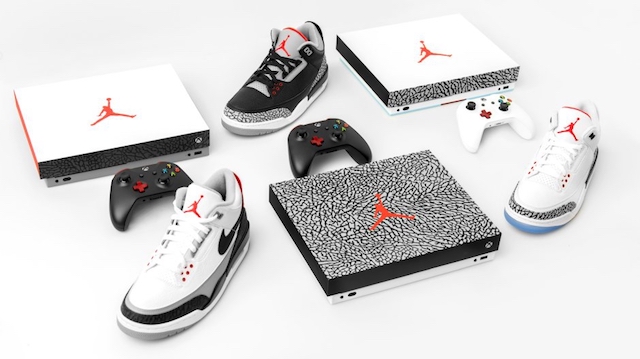 If you have a new 4K TV, one of the best complementary devices you can buy is the Xbox One X. Not only can it play UHD streaming content, but it supports 4K Blu-ray too -- something the PlayStation 4 lacks. Best of all, Microsoft's newest console variant can handle 4K gaming -- yet another thing Sony's gaming machine fails to do.
Anyone with $500 can score an Xbox One X -- that's a basic move. If you really want to be the envy of your friends, a limited edition version of the console is what you want. Microsoft is currently running a giveaway for some extremely limited Xbox One Machines. You see, to celebrate the Air Jordan 3 sneaker (for whatever reason) the Windows-maker is giving away three unique consoles. There are three styles, but only one of each is being produced. In other words, these Air Jordan Xbox One X consoles are about as rare as they come.
"Anyone who's a sneaker enthusiast knows that the next five weeks are a very big deal when it comes to some iconic Air Jordan III releases. To celebrate this reveal, we're creating one-of-a-kind Xbox One X consoles inspired by each of the three upcoming Air Jordan III releases," says Aaron Greenberg, GM of Games Marketing, Microsoft.
ALSO READ: Microsoft unveils Xbox One S PlayerUnknown's Battlegrounds (PUBG) Bundle
Greenberg further says, "The Free Throw Line Xbox One X pays homage to the unforgettable dunk by Michael Jordan in 1988. The Black Cement Xbox One X is inspired by the sneakers with all the same detailing which made these, considered by many, the greatest sneakers of all-time, and the Tinker Xbox One X showcases Tinker Hatfield's original design for what the shoe was going to be."
I mean, I'll be honest, I think being a sneaker enthusiast and owning numerous pairs of shoes is a bit foolish, but I can appreciate fashion and well-designed footwear. As someone who grew up in the 1990's, I know how important Air Jordan sneakers were to many children and young adults, but the man hasn't played basketball in a very long time -- it's probably time to move away from holding him up on a pedestal and worshipping shoes that carry his logo. With that said, these sneakers remain popular in Hip-Hop culture -- the below music video is about Air Jordan shoes and has 11 million views.
Ultimately, this feels like corporate greed and brand porn. This is no different than an Xbox with, say, the Slim Jim, Old Navy, or Honda logo on it. Personally, I find an Xbox with another company's logo on it to be a bit weird, but OK, whatever. Free is free.
As I know from watching Pawn Stars, however, things are exceedingly valuable when they appeal to multiple segments. In this case, a one-off Xbox One X carrying an Air Jordan logo will appeal to gamers, sneaker enthusiasts, and basketball fans. Even if you aren't big into sneakers or basketball, if you win the giveaway, you can probably flip it for a nice price.
Entering is extremely easy -- just retweet the below tweet. There is some small print, however -- you must include the hashtag #Sweepstakes. Be sure to retweet before February 22 at 1am ET, as that is when the contest ends. You can read the full rules here.
RT for a chance to win an Xbox One X console inspired by the #AirJordan III. NoPurchNec. Ends 02/21/18. #Sweepstakes rules: https://t.co/BSYHSM7rcp pic.twitter.com/eEyqtv8ceM

— Xbox (@Xbox) February 16, 2018