Microsoft releases Windows 10 Redstone 5 Build 17618 for Skip Ahead -- and it includes Sets!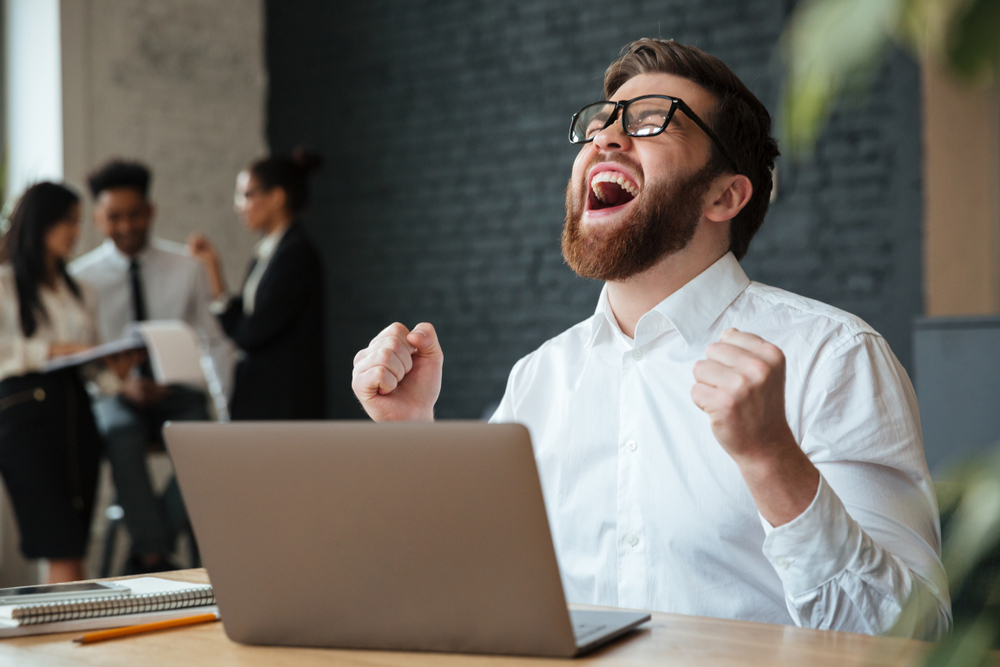 While Microsoft is busy putting the finishing touches to the Windows 10 Spring Update, codenamed Redstone 4, work is well underway on its successor, due around October time.
Windows Insiders who opted to "skip ahead" can try out early Redstone 5 builds, and today Microsoft releases Build 17618 on that branch. Usually at this stage in development there's nothing much to get excited about, but that's not the case here.
SEE ALSO:
Build 17618 includes Sets, a tab-based feature that's designed to let you access related web pages, research documents, files, and applications in one location. Sets was originally planned to be part of the Spring Update alongside Timeline, but Microsoft needed a little more time to get things right, and so pushed it back.
The feature, which made a brief appearance in Redstone 4 builds, is now available to test once more and there have been a number of improvements made to it. These include:
Support for desktop (Win32) apps. Sets now supports File Explorer, Notepad, Command Prompt, and PowerShell. One of the top feature requests by Insiders has been tabs for File Explorer and with Sets you can get a tabbed File Explorer experience! Try it out with these apps and let us know what you think.
You can now launch apps from the new tab page by typing the app name into the search box.
UWP apps are launched in the same window replacing the new tab page.
The tab UI in Sets now shows icons including website favicons and app icons.
Resume your project with more control -- When restoring your projects you'll be prompted to restore related apps and webpages. In Timeline you'll see when a project has multiple activities associated with it.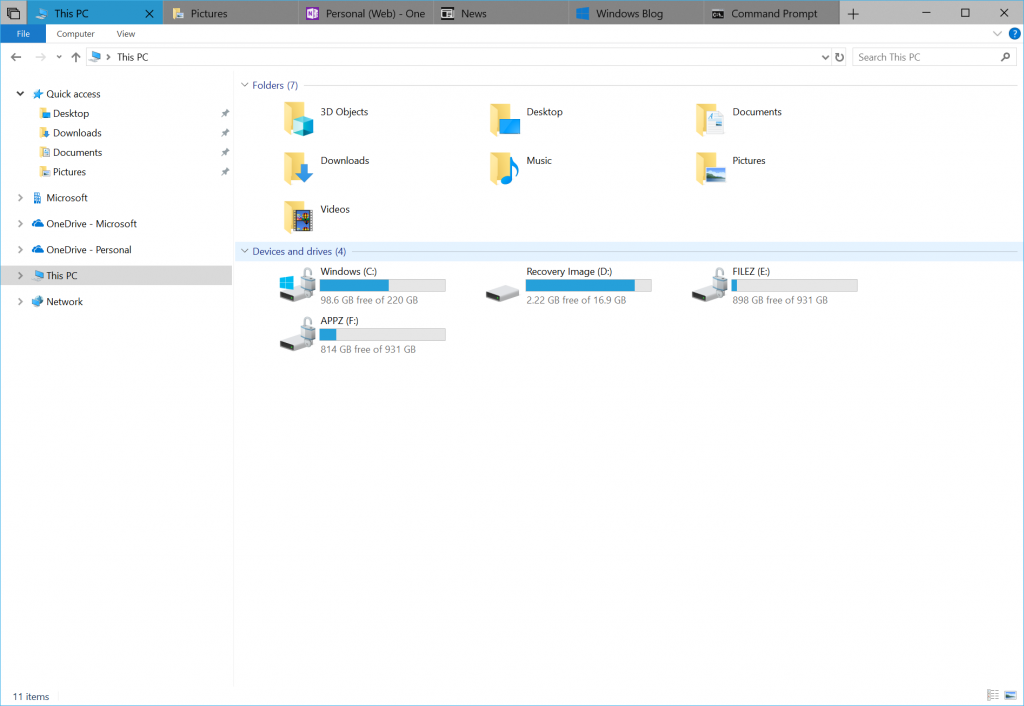 There are some keyboard shortcuts to try with it as well:
Ctrl + Win + Tab -- switch to next tab.
Ctrl + Win + Shift + Tab -- switch to previous tab.
Ctrl + Win + T -- open a new tab.
Ctrl + Win + W -- close current tab.
Sets can be enabled or disabled by going to Settings > System > Multitasking.
The Mixed Reality issues which blighted RS4 Build 17112 (notably crashes and an uncomfortably low frame rate) are present in this build, so if you are a Mixed Reality user you might want to skip this one.
Changes, improvements, and fixes in this build include:
Fixed an issue resulting in 3 and 4 finger gestures on the touchpad being unresponsive in the last two flights.
Fixed an issue that could result in UWP apps sometimes launching as small white rectangular boxes.
Fixed an issue where the Settings tile didn't have a name if you pinned it to Start.
Fixed an issue where navigating to Themes Settings crashed Settings.
Fixed a typo in Storage Sense Settings.
Fixed an issue resulting in all dropdowns in Settings appearing blank until clicked.
Fixed an issue that could result in Settings crashing after having navigated to and left Sound Settings.
Fixed an issue that could result in the labels for files on the desktop overlapping their icons.
Fixed an issue resulting in the hamburger button in Windows Defender overlapping the home button.
Updated Start so that it now follows the new Ease of Access setting to enable or disable hiding scrollbars.
Updated the Action Center so that notifications will now appear with a fade in animation when you open it.
Updated the new notification to fix blurry apps so that it now will persist in the Action Center to be accessed later once the toast has timed out and dismissed.
Fixed an issue resulting in some app icons appearing distorted in Task View.
Fixed an issue where making a pinch gesture over the open apps in Task View might result in no longer being able to scroll down to Timeline.
Fixed an issue where pressing and holding on a card in Timeline would open the corresponding app, rather than bringing up a context menu.
Fixed an issue resulting in the title bar overlapping content when you opened your lists in Cortana's notebook.
Fixed an issue resulting in the Windows Defender offline scan not working in recent builds.
Fixed an issue where the Japanese IME sometimes wouldn't turn on correctly.
Fixed an issue where the floating dictation UI could be unexpectedly tiny.
Fixed an issue where the touch keyboard might stop invoking automatically after locking the PC and then unlocking the PC by using the touch keyboard to enter your PIN or password.
Fixed an issue where the touch keyboard number pad would show the period as a decimal separator for countries that use the comma as a decimal separator.
Fixed an issue resulting in not being able to turn on and off third-party IMEs using the touch keyboard.
Fixed an issue resulting in numbers not being inserted when flicking up on the top row of letters in the wide touch keyboard layout.
Fixed an issue where plugging in an external optical drive (DVD) would cause an Explorer.exe crash.
Fixed an issue resulting in DirectAccess not working in recent builds, where the connection would be stuck with status "Connecting."
Fixed an issue where all apps in Task Manager's Startup tab had the status "0 suspended."
Fixed an issue where after upgrading your speaker volume might change to 67 percent.
Updated Microsoft Edge's Hub to now have an acrylic navigation pane.
Fixed an issue where it wasn't possible to open a new inPrivate window of Microsoft Edge from the taskbar jumplist while in Tablet Mode.
Fixed an issue where dragging a Microsoft Edge tab out of the window and releasing hold of it somewhere over the desktop might periodically result in a stuck invisible window.
Fixed an issue where the keyboard combo to switch Virtual Desktops didn't work if Microsoft Edge was open on multiple Virtual Desktops and focus was on the web content.
Fixed an issue that could result in tabs hanging and not loading content recently in Microsoft Edge after using the browser for a few days with an adblocker enabled.
Fixed an issue where clicking to zoom in on an image in Microsoft Edge would zoom into the top left corner rather than the area where you'd clicked.
Fixed an issue from the last few flights where Microsoft Edge might crash if you refreshed a window with a PDF open in it.
Fixed an issue in Microsoft Edge where favicons in light theme were unexpectedly getting black backgrounds.
Fixed an issue where the buttons on Game bar were not centered correctly.
Fixed an issue where in some games -- such as Destiny 2 and Fortnite -- mouse and keyboard input would still go to the game while Game bar was open.
Fixed an issue where keyboard and mouse input might not work correctly in Game bar when playing a first-person game (e.g. Minecraft).
Fixed an issue in the text box for Mixer stream title, using non-character keys (e.g. Tab, Delete, Backspace, etc.) might cause the game to hang for a few seconds.
Fixed an issue where bringing up Game bar using the Xbox button on an Xbox One controller didn't work in some games.
Fixed an issue where certain games using Easy Anti Cheat could result in the system experiencing a bugcheck (KMODE_EXCEPTION_NOT_HANDLED).
Fixed an issue where we had observed seeing longer-than-normal delays during install at the 88 percent mark. Some delays were as long as 90 minutes before moving forward.
Fixed an issue in apps like Movies & TV where if you deny consent to access your library it crashes the app.
Fixed an issue where on post-install at the first user-prompted reboot or shutdown, a small number of devices would experience a scenario wherein the OS fails to load properly and may enter a reboot loop state.
Fixed an issue where selecting a notification after taking a screenshot or game clip opens the Xbox app's home screen instead of opening the screenshot or game clip.
Fixed an issue where tearing a PDF tab in Microsoft Edge will result in a bugcheck (GSOD).
Known issues include:
IMPORTANT: The Microsoft Store may be completely broken or disappeared altogether after upgrading to this build. See here for details including a workaround on how to get the Microsoft Store back.
If you open Settings and clicking on any links to the Microsoft Store or links in tips, Settings will crash. This includes the links to get themes and fonts from the Microsoft Store.
If you try to open a file that is available online-only from OneDrive that hasn't been previously downloaded to your PC (marked with a green checkmark in File Explorer), your PC could bugcheck (GSOD). You can work around this problem by right-clicking on these files and selecting "Always keep on this device." Any file-on-demand from OneDrive that is already downloaded to the PC should open fine.
Image credit: Dean Drobot/ Shutterstock