Guess who Facebook is blaming for its creepy phone call and SMS logging? You!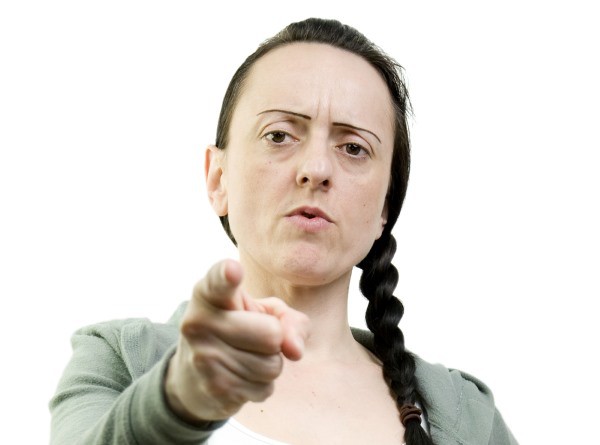 There has been much in the news lately about Facebook letting its users down. The most egregious abuse is the Cambridge Analytica scandal, where the social network allowed that third party company to collect private user data. It has led many to join the #DeleteFacebook movement, where angry users have terminated their accounts. Facebook has since apologized using full-page newspaper advertisements.
Unfortunately, there is yet another Facebook outrage happening at the same time -- it has been discovered that the company has been logging phone call and SMS information from Android users. Today, Facebook admits to the behavior, but it claims the blame is with users. In other words, Facebook is taking no responsibility.
Facebook issues the following statement.
You may have seen some recent reports that Facebook has been logging people's call and SMS (text) history without their permission.

This is not the case.

Call and text history logging is part of an opt-in feature for people using Messenger or Facebook Lite on Android. This helps you find and stay connected with the people you care about, and provide you with a better experience across Facebook. People have to expressly agree to use this feature. If, at any time, they no longer wish to use this feature they can turn it off in settings, or here for Facebook Lite users, and all previously shared call and text history shared via that app is deleted. While we receive certain permissions from Android, uploading this information has always been opt-in only.

We introduced this feature for Android users a couple of years ago. Contact importers are fairly common among social apps and services as a way to more easily find the people you want to connect with. This was first introduced in Messenger in 2015, and later offered as an option in Facebook Lite, a lightweight version of Facebook for Android.

When you sign up for Messenger or Facebook Lite on Android, or log into Messenger on an Android device, you are given the option to continuously upload your contacts as well as your call and text history. For Messenger, you can either turn it on, choose 'learn more' or 'not now'. On Facebook Lite, the options are to turn it on or 'skip'. If you chose to turn this feature on, we will begin to continuously log this information, which can be downloaded at any time using the Download Your Information tool.

If, at any point, you no longer wish to continuously upload this information, you can easily turn this feature off in your settings. You can also to turn off continuous call and text history logging while keeping contact uploading enabled. You can also go to this page to see which contacts you have uploaded from Messenger, and you can delete all contact information you've uploaded from that app should you choose.

When this feature is enabled, uploading your contacts also allows us to use information like when a call or text was made or received. This feature does not collect the content of your calls or text messages. Your information is securely stored and we do not sell this information to third parties. You are always in control of the information you share with Facebook.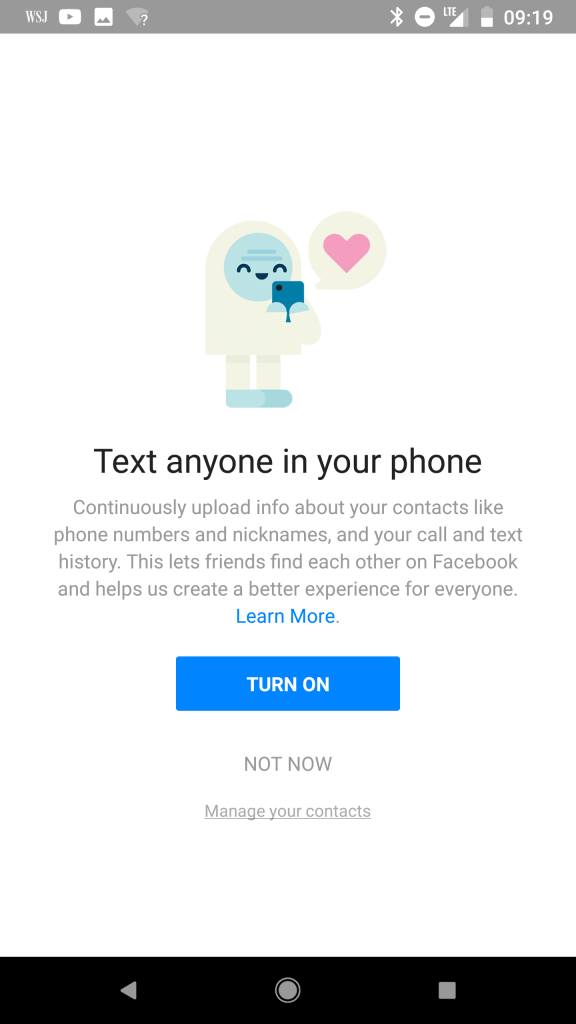 You know what? Facebook isn't wrong. Look, the tone of this explanation is a bit condescending, but overall, it does seem that Android users have no one to blame but themselves. As you can see from the image above, users had the option to tap "Not now" to avoid the logging. If they instead chose "Turn On," then they willfully accepted the  behavior.
Could Facebook be more transparent? Absolutely. But still, users need to do their due diligence when signing up for apps and services.
Do you think Facebook is wrong to blame its own users? Please tell me in the comments below.
Photo credit: DJTaylor / Shutterstock