Facebook makes its privacy settings easier to find -- including the option to delete your Facebook data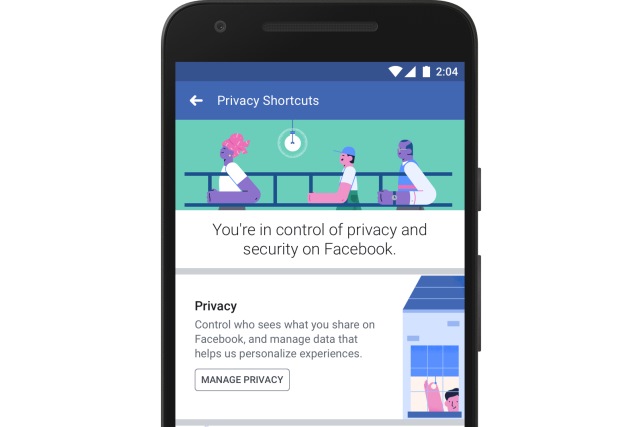 In the wake of the Cambridge Analytica scandal and revelations about call and text logging, Facebook simply could not have got away with doing nothing. Mark Zuckerberg has hardly prostrated himself in front of users in his various recent interviews, but today Facebook announces a series of changes to privacy settings.
The social network is making it easier to find and use privacy settings, and providing users with information about how to delete the data Facebook stores about them.
See also:
Facebook seems -- a little strangely perhaps -- keen to suggest that the changes are not a reaction to the recent privacy issues. The company says: "Most of these updates have been in the works for some time, but the events of the past several days underscore their importance."
Perhaps the most notable change is the simplification of privacy settings for mobile users. Everything can now be adjusted in one place without the need to navigate through endless screens. Facebook is also introducing a new Privacy Shortcuts menu:
People have also told us that information about privacy, security, and ads should be much easier to find. The new Privacy Shortcuts is a menu where you can control your data in just a few taps, with clearer explanations of how our controls work. The experience is now clearer, more visual, and easy-to-find. From here you can:

Make your account more secure: You can add more layers of protection to your account, like two-factor authentication. If you turn this on and someone tries to log into your account from a device we don't recognize, you'll be asked to confirm whether it was you.
Control your personal information: You can review what you've shared and delete it if you want to. This includes posts you've shared or reacted to, friend requests you've sent, and things you've searched for on Facebook.
Control the ads you see: You can manage the information we use to show you ads. Ad preferences explains how ads work and the options you have.
Manage who sees your posts and profile information: You own what you share on Facebook, and you can manage things like who sees your posts and the information you choose to include on your profile.
Considering news of call and SMS logging came to light after users downloaded and browsed through their Facebook data, it is perhaps little surprise that this privacy update sees changes in this area too. Facebook explains:
Some people want to delete things they've shared in the past, while others are just curious about the information Facebook has. So we're introducing Access Your Information -- a secure way for people to access and manage their information, such as posts, reactions, comments, and things you've searched for. You can go here to delete anything from your timeline or profile that you no longer want on Facebook.

We're also making it easier to download the data you've shared with Facebook -- it's your data, after all. You can download a secure copy and even move it to another service. This includes photos you've uploaded, contacts you've added to your account, posts on your timeline, and more.
While the changes will be welcomed, privacy advocates will almost certainly complain that Facebook has not gone far enough. How do you feel?